Sleep deprivation increases risk of heart attack
Scientists have discovered that a combination of going to bed late and waking up early increases your chance of heart disease by a shocking 48%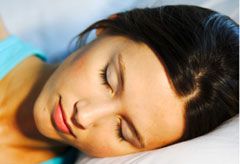 Scientists have discovered that a combination of going to bed late and waking up early increases your chance of heart disease by a shocking 48%
For many of us there just aren't enough hours in the day, but scientists are urging people to find time for sleep, claiming that less than six hours a night greatly increases the risk of a heart attack or stroke.
Experts warn those who have a tendency to stay up in order to tick more items off the 'to-do list' are at higher risk of suffering a heart attack than those who regularly get a good night's rest.
But retreating under the duvet for hours on end is not a cure either as research suggests sleeping for more than nine hours a night could be an early warning sign of heart disease.
Professor Francesco Cappuccio from the University of Warwick Medical School says: 'If you sleep less than six hours per night and have disturbed sleep you stand a 48% greater chance of developing or dying from heart disease and a 15% greater chance of developing or dying of a stroke.'
Despite the recommendation of at least six to seven hours sleep a night, 60% of us do not think we are sleeping enough, with a third suffering from insomnia according to findings published in the European Heart Journal.
Scientists believe our 'work hard-play hard' society is causing us to jeopardize our health. 'The trend for late nights and early mornings is actually a ticking timebomb for our health so you need to act now to reduce your risk of developing these life-threatening conditions,' says Professor Cappuccio.
'The whole work-life balance struggle is causing too many of us to trade in precious sleeping time,' he says.
Co-researcher Dr Michelle Miller says: 'Chronic short sleep produces hormones and chemicals in the body which also increase the risk of developing high blood pressure and cholesterol, diabetes and obesity.'
Celebrity news, beauty, fashion advice, and fascinating features, delivered straight to your inbox!