Obesity puts 30 a day in hospital
More than 30 Britons are ending up in hospital every day because they are dangerously overweight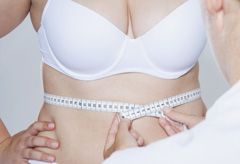 (Image credit: REX)
More than 30 Britons are ending up in hospital every day because they are dangerously overweight
The number of people admitted to hospital for weight related problems has trebled in the past four years, according to NHS figures.
More than 30 Britons a day are being taken to hospital because they are dangerously obese. According to the NHS Information Centre, 11,740 patients were admitted to hospital with obesity-related condition compared to just 3,876 in 2006.
Worryingly, the figures suggest that nearly three quarters of patients are women despite obesity among the genders being similar, and nearly 25 per cent of all British adults being classified as obese.
It has been estimated that the NHS spends £4.2billion treating patients for obesity-related illnesses, including costly weight-loss surgery such as gastric band operations costing £6,000 per patient.
But Marcus Reddy, consultant surgeon at St George's Hospital in South London, defends weight-loss surgery claiming it will save the NHS money in the long-term as people will be less likely to need hospital treatment for obesity related problems.
'If you were an accountant you would say it is money very well spent,' he says.
Should the NHS pay for weight-loss surgery or should Britain be more pro-active about exercise to maintain a healthy lifestyle? Let us know your thoughts.
Celebrity news, beauty, fashion advice, and fascinating features, delivered straight to your inbox!