How to survive the cold by the women who train in below freezing conditions
Moaning about the chilly commute? Time to get over yourself and think about the Ice Maidens who are training to become the first all-female team to cross Antarctica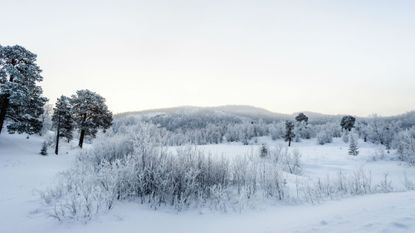 (Image credit: Ice Maidens)
Moaning about the chilly commute? Time to get over yourself and think about the Ice Maidens who are training to become the first all-female team to cross Antarctica
How to survive the cold is something that Major Natalie Taylor is an expert in. Her day job is being a GP with the British Army, tending to wounded soldiers on the frontline in places such as Kabul, Afghanistan, where she will be deployed next year. In her spare time? She is part of an 11-strong group of women called the Ice Maidens, who are currently training in dangerous, extreme conditions with the aim to become the first all-female team to cross Antarctica, coast-to-coast.
Let's break that down: Currently learning the technicalities of how to survive the cold, the team will be trekking and skiing across some of the world's most treacherous terrain, negotiating crevasses and ice cliffs for 1,700km. The expedition will take 75 days, where each woman will pull sledges weighing 70-80 kilos and facing head winds of up to 50mph. To say these women are badass would be like saying Beyonce can hum a tune or two. Prepare for serious squad goals.
And if you've been complaining about the weather taking a chilly turn over the past week or two then consider the -40 temperatures that the Ice Maidens will face in Antarctica. There's a few things that Taylor and her team have learned about how to survive the cold that they wanted to share with us. 'If there's one thing that I've learned from the military it's that anything is achievable,' says Taylor. 'The physical training helps me to switch off from the emotionally taxing day job I have. It also makes me a stronger person as I have a lot to draw on when the going gets tough. If we can survive the arctic, we'll survive anything.'
Here's what we mere mortals can learn from Natalie Taylor of the Ice Maidens on how to survive the cold
Get a hat
'Sounds obvious, right? But we lose most of our heat through the top of our heads so wrap up to keep warm. That said, if you're exercising in the cold, whether it's trekking across Antarctica or going for an icy run in the park, you don't want to overheat. We always recommend those fleecy headbands to cover your ears and block out wind-chill but they can still let the top of your head breathe a little. Exercising in the cold is actually great for you so don't use a bit of snow as an excuse to skip your morning run.'
Layer up
'The layering system is so important, and a great one to use if you're going skiing, snowboarding or walking in winter. Go for a good, solid base layer. We wear a net top and matching trousers by Aclima that look like a giant fishnet stocking but they're great for keeping you warm and wicking away sweat. Then you need a good mid-layer and a wind and waterproof outerlayer. Make sure you have vents too, zips you can undo when you warm up.'
Feet first
'Keep your feet warm and dry. Always. Studies by the Common Cold Centre in Cardiff where students sat with their feet in bowls of cold water, discovered you are far more likely to catch a cold if you have wet feet. It also makes you miserable because it causes painful blisters, foot rot and infections such as athlete's foot. Always dry your feet properly after getting wet and carry a spare pair of clean, dry socks.'
Divert the draught
'Your wrists, neck and ankles are the culprits for letting in a draught that will make you feel much colder all over. Get some good gloves with elastic around the wrists and a fleecy neck-warmer, like a snood or scarf to keep the wind and cold out.'
Look after your skin
'For us, that means not washing your face while training in cold environments because it strips the skin of its natural moisture. We also use very thick, heavy moisturiser to combat dry skin. In Scandinavian countries, a lot of people never wash their face in the mornings because it washes away the natural oils that will protect the face throughout the day. I'd always recommend doing your hygiene in the evenings to avoid drying your skin out.'
Follow the Ice Maiden's expedition here or follow them on Twitter
Celebrity news, beauty, fashion advice, and fascinating features, delivered straight to your inbox!