The High Fat Diet: How I Lost 7Ibs In 10 Days
What really happens on the High Fat Diet? Fashion editor Lucia Debieux finds out...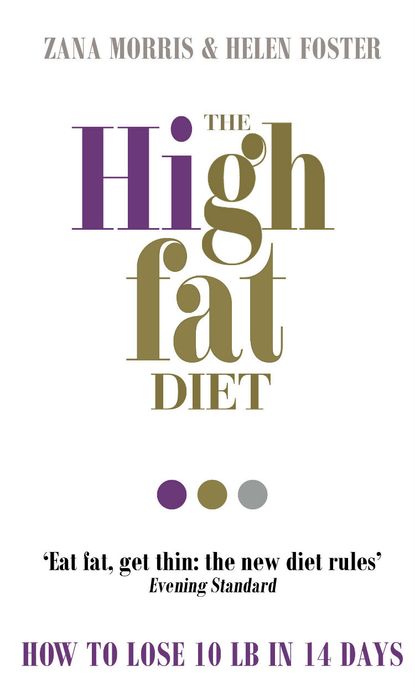 What really happens on the High Fat Diet? Fashion editor Lucia Debieux finds out...
Nutritionist Zana Morris and Health Journalist Helen Foster have come together to rewrite the rule book on fat. The High Fat Diet is the hottest thing to happen this year, but what's all the fuss about? And can we really lose up to 10lbs in 14 days?
I gave it a good go. No booze, fruit, carbs or sugar was allowed. Sugar will be the death of me, it's in everything. What I am allowed is fat (yes you did read that right, F.A.T).
After spending two days in Florence eating my own body weight in pizza and pasta, this couldn't have come at a better time for me. Plus, with London Fashion Week looming, if this doesn't shift my extra Christmas weight nothing will. No pressure then - eek!
Day 1, Wednesday 14th January. Pretox. Breakfast was scrambled eggs with avocado and spinach. I'm all about a brekkie so this was right up my street. Ok, its not a huge portion but it's super tasty. Lunch was yummy. How is mozzarella and tomato diet food?! Who knows but it's delicious.
There were leaving drinks at Marie Claire HQ for a well loved staffer, which means booze and treats - don't they know I'm dieting?! This usually consists of lots of Prosecco (yum) bowls and bowls of M&S choc treats (more yum) and even home baked madeleines by our Head of Production. Basically everything my High Fat Diet is not!
None of this passes my lips, though -I'm starting this diet as I mean to go on! Dinner was grilled salmon with cream cheese and spinach.
High Point Actually accepting that I am doing this diet and embracing it was a high point. Things can surely only go up from from here, or hopefully down on the weight front!
Low Point I'm feeling very pleased with myself for not falling at the first hurdle but also a tad boring being the girl staying in the office working rather than joining in with the leaving drinks at the pub. Sob.
Day 2, Thursday 15th January. Pretox.
I had a revelation reading the book. Of all the diet books I've read (and there have been a lot). Can you guess I'm up for a fad?
They have never mentioned the theory of the conscious versus your unconscious part of your brain. I feel if I master this, then I could have a good chance of cracking this new lifestyle. It's all about coming up with your blueprint, the 'new you'. Reprogramming your mind with this new picture to focus on, replacing the old image it thought was you.
Sounds easy enough. Breakfast was smoked salmon and grilled mushrooms with cheese. Lunch was tuna, spinach salad and walnuts.
Dinner was grilled salmon with spinach and cream cheese. I don't think I have ever eaten so much cream cheese, but I am kinda' loving it! On the pretox, you are allowed to snack as you are weening yourself off the carbs and sugar but only on hard cheese and nuts. I am all over this, and it's the only thing getting me through.
High Point Making sense of the book and its guidelines. I now don't go anywhere without it.
Low Point The hunger feeling didn't leave me today. Like a nagging noise in your ear telling you to eat, but you cant. Woe is me. Teamed with a constant dull headache, this is not fun.
Day 3, Friday 16th January. Pretox. Another delicious brekkkie, and it's quite a novelty making my own breakfast for five days in a row. Usually, I have at least two breakfast meetings a week but I know I'll totally fail if I tempt myself with Dean Street Town House's avocado on toast. So it's homemade for me! Smoked salmon, cream cheese and walnuts did the job. Lunch was mackerel with spinach salad, green beans and pine nuts.
Dinner was goats cheese and spinach frittata with green salad. Yummy. I've never cooked frittata before, and learnt that it's super easy!
Day three and according to the book the snacks stop - eek. Wish me luck.
High Point Energy levels are sky high. Friday morning started with a dance class with H&M, can't stop moving all day and desperate to show everyone my new found moves. Move over Beyonce.
Low Point Going to a Afternoon Champagne Tea at the Bvlgari Hotel and not been able to eat anything! Torture!
Final Day On The Pretox, Saturday 17th January.
I was meant to be doing the 12 minute high intensity workout every day (let's not make a big deal out of this) but I haven't. Eek! Today, though, I DID! Yes that's right, my Saturday morning started with the 12 minute workout. Harder than I imagined but on the plus side it's over before you know it and I am VERY unfit.
Breakfast was scrambled eggs, avocado and spinach with a bulletproof coffee. God only knows why I didn't read the book properly, but realised I have been too hard on myself, and could have treated myself to apple and greek yogurt on day one and two. The idea of the pretox is to ease your body into no carbs and sugar where I went full throttle. No wonder I had a fuzzy headache constantly! Lunch was tuna and lots of rocket salad.
Dinner was hard, I was at a family dinner and couldn't face salmon again so had a tuna steak recipe from the 10 day Blitz dinner option. I know I have gone rogue but it was the only way.
High Point Being organised, getting through this diet is all about the preparation. I am going to Norfolk for the night so having pre warned my hosts and preparing my nuts for breakfast I am really living the dream.
Low Point See above.
Day 5, Sunday 18th January So I have completed the 4 day pretox, now for the '10 Day Blitz'. It begins with a breakfast of smoked salmon, cream cheese and walnuts. Pretty dull.
But then it's onto a birthday lunch at Jamie's Italian... with mixed emotions of dreading it and being quietly confident I can refuse the bread basket and the bottle of red. (FYI I did!) Overall a grumpy day - my first time out on the diet was HARD. Looking back, it was too early to be able to go out and enjoy food amongst people who are not on any form of diet. At. All.
High Point That I managed the work out again. Boom.
Low point Crying on the way home from the restuarant. Exhausted with a dull buzzy head ache and heart palpations were not the ideal mix.
Day 6 Monday 19th January FML kinda' day. Pretty much over this diet lark, but must crack on. The palpitations and buzzy headache are in full effect. I'm now thinking my giddiness on Friday with energy was actually palpitations. Trying to push through the negative thoughts with the visulisation techniques I have learnt. Breakfast was scrambled eggs and walnuts.
My mood turned irritable come lunchtime. High sugar withdrawal. Lunch perked me up though, mozzarella with avocado and homemade pesto is a favourite. Dinner was yummy - thank god for the taste of the meals, this is what really what gets you through it. If it was tiny bird portions you couldn't sustain it. Salmon with homemade quacomole and green beans.
High point Saving so much money on lunch. Pret A Manger must be seeing a huge decline without me buying up the almond croissants every morning.
Low point My general mood, grumpy quiet and generally knackered.
Day 7, Tuesday 20th January Woke up with a much clearer head. Yay. Started the day with breakfast of scrambled eggs, cream cheese and walnuts. Lunch was feta salad with pine nuts and walnuts. Dinner was quick tuna steak after a yoga workout with mozzarella and broccoli.
High Point The fat content of each meal really does fill you up. I've got this no snacking lark down.
Low Point Walnuts and salmon have become my best friend. I used to like both.
Day 8, Wednesday 21st January Started the day off with lots of energy and buzzing that I've lost 5Ib in 7 days! Breakfast was omelette with cream cheese and half avocado.
Lunch was feta salad, again with pine nuts.
Wednesday afternoon was not a usual Wednesday for me. I was on a press launch at the Mondrian Hotel with M&S (I know, hard life, eh?). We started with a hour and half of yoga, followed by a spa treatment. I choose the Dr Jackson massage - the eliminating toxins part sold it to me. It was bliss. Dinner was a big PR event starting with drinks first. I stuck to my sparkling water (Zzzzz) followed my a sharing feast in the private room. Luckily the whole event was #Retox/Detox, so you could choose which you wanted to indulge in. I obviously chose Detox. Lots of smoked salmon, ricotta, green beans and grilled salmon.
High Point Feeling very zen knowing that in conjunction with exerise and lifestyle I am doing the best for my body. Namaste.
Low Point But on the other hand stressed that I had over eaten at dinner, I had the fear that I shouldn't have eaten the ricotta. I felt bloated and irritable, couldn't wait to get back to my hotel room.
Day 9, Thursday 22nd January Woke up in dreamy state which could have something to do with the comfy bed at The Mondrian. Cheers M&S*. I slept awfully, though... maybe it was the ricotta. Eek. Breakfast was tricky (I was let loose at the buffet). Note to self, do not look at the pain au chocolat. Boiled eggs with smoked salmon and avocado was the result. The not weighing everything slightly put the fear of god into me but what's a gal to do?
Lunch was something I prepped the day before and left in the office fridge. Just call me Nigella. Tuna with Creme fraiche, salad and walnuts. Lots of green tea was the order of the day to get me through the afternoon. Dinner was cheese and mushroom omelette with emmental, salad and of course more pine nuts.
High Point The sugar cravings are still strong though the heart palpittions have disappeared. Winning.
Low Point Weighing everything is starting to be a total bore but annoyingly it does work.
Day 10, Friday 23rd January Breakfast of the 'cheesy eggs' recipe, but having not had time to shop (or more likely that I forgot) the crux of my diet... Philadephia. I added creme fraiche with half a avocado on the side... it's called freestyling people. Let's hope it works. Lunch was one of my favourite dishes, the feta salad with walnuts. Dinner was salmon with cream cheese and courgettes. Delicious.
High Point Can't believe I've done 10 days. Boom.
Low Point Aching limbs from the hour and half yoga session the day before plus forgetting my lemon, a drizzle over my lunch would have been delicious. First world problems.
Day 11, Saturday 24th January Breakfast was a bulletproof coffee then emmental with walnuts. Again! Lunch was mozzarella with more of the homemade pesto and salad. Dinner was a handful of nuts and water. I was actually full from lunch and was at the cinema, so no time to eat.
High Point Saturday morning waking up with no sugar cravings.
Low Point Being at the cinema and not being able to scoff my usual treat bag of Minstrels.
Day 12, Sunday 25th January Last Sunday on the Blitz. Yay! Cheesy eggs recipe followed by bulletproof tea was my breakfast.
Lunch was more tricky. A day out mooching around Shoreditch meant I had to wait until late afternoon, so ended up snacking on some walnuts and pinenuts. Yes, it was as dull as it sounds.
I planned to have a early dinner, but after lots of green tea I held out and had a yummy supper of grilled salmon, courgettes and melted cream cheese.
High Point Feeling smug that I didn't indulge at the cinema, left me waking up with a flat stomach and lots of energy.
Low Point Having to just look and not touch the amazing dark chocolate mountain in Leila's in East London, was possibly the most depressing thing all weekend.
Day 13, Monday 26th January I started the day off with emmental cheese and walnuts. Lunch was mozzarella with the pesto again, teamed with rocket, avocado and my trusty walnuts. High Point Knowing I only have 1.more.day.left!
Low Point Skipping dinner after yoga, I wasn't hungry and teamed with the fact that I am too nervous to eat my incase I tip myself back over to 6lb. I must meet my half a stone goal!
Dinner was the cheese and mushroom omelette with rocket and pine nuts.
High Point No craving. No headache. It's finally working.
Low Point The walnuts. Literally can't bear to look at them let alone eat them any more.
Last Day, Tuesday 27th January Today I had my first breakfast meeting with a PR. Only slightly embrassed explaining why I wasn't eating carbs - and to be honest, once you drop in the fact you have already lost 6lbs, funnily enough people are quite interested. Lunch was tinned tuna with crème fraiche, lettuce leaves and walnuts.
All in all after only two weeks, I'm half a stone down and feeling great. If you want to reboot your system and lose a lot of weight - while eating delicious meals that are a) easy and b) dare I say delicious - then you're a fool not to give the High Fat Diet a go.
The top 3 things I have learnt along the way...
1.You will need to invest in some scales to weigh everything out.
2. Measure yourself and hop on the scales before you start, to see the pounds dropping off is a great feeling.
3. Finally even if you can't cook you can do this, the meals are simple.
Just be ready for the sugar withdrawals, high heart palpations and dull headaches. For me, it's now into the third phase of the diet. the 'Maintenance Plan', where in I try and maintain my weight loss (and, let's be honest, hopefully lose more). I'll introduce carbs, fruit and some veg in the next two weeks, balanced with slightly less fat.
Wish me luck.
Celebrity news, beauty, fashion advice, and fascinating features, delivered straight to your inbox!