Women warned: Swine flu epidemic
Swine flu cases have doubled in the past week, overtaking last year's epidemic, as doctors urge pregnant women in particular to protect themselves against the deadly disease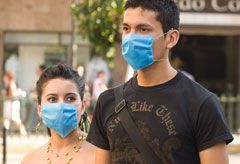 (Image credit: Rex Features)
Swine flu cases have doubled in the past week, overtaking last year's epidemic, as doctors urge pregnant women in particular to protect themselves against the deadly disease
Swine flu has been off the agenda lately but a new report has revealed that the virus is back - with almost 200 people fighting for their lives in intensive care units across the country.
Experts say that swine flu has reached epidemic status with hospitals struggle to cope with the increasing number of patients.
Pregnant women are among those most at risk from flu, along with the obese, the elderly and those with underlying health problems that result in a weaker immune system.
'It is one of the highest peaks we've seen in the past 10 years and significantly higher than the average for this time of year,' says Chip Schaible, director of SDI Healthcare - a company that analyses flu rates with UK GPs.
Worryingly, only 40% of those in the 'at risk' group have received the vaccination this year, with the British Medical Association blaming the lack of vaccinations for the growing epidemic.
Richard Firmin, an expert in the H1N1 virus at Glenfield Hospital in Leicester, says: 'The numbers being referred have tripled in the past two or three weeks. We are receiving about half a dozen new referrals each day.'
Professor Lindsey Davies, president of the Faculty of Public Health, has called for health adverts, blaming the government for not making the public aware of the serious dangers.
'It's really disappointing that there has not been a national campaign this year, like there was last year. People needed to be reminded to wash their hands regularly and catch sneezes in tissues,' he says.
For more information and tips on how to protect yourself, visit the NHS website, here.
Celebrity news, beauty, fashion advice, and fascinating features, delivered straight to your inbox!