Dying cancer patients given false hope by 'futile' drugs
Experts warn that dying cancer patients should not be given 'futile' drugs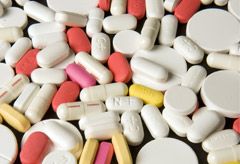 (Image credit: Rex Features)
Experts warn that dying cancer patients should not be given 'futile' drugs
Dying cancer patients should not be given futile and expensive drugs, experts say, in a warning over the 'culture of excess' in treating the disease.
A panel of leading academics has said that the cost of treating cancer in western societies is spiralling out of control, as increasing numbers of people develop tumours because of our ageing population.
It has been claimed that new medicines are coming onto the market with little evidence to show that they will help patients.
Doctors are said to be advising patients to take these new treatments with little thought to their cost or effectiveness because they do not wish to disappoint sufferers of the disease. This leaves patients with false hope as some drugs may only lengthen their lives by a few short weeks.
A detailed report, published in The Lancet Oncology journal, revealed that it may be better for some terminally ill patients to forgo these treatments in favour of better end-of-life care.
The experts, led by Professor Richard Sullivan from King's College London, say that more money should be spent on proven techniques such as radiotherapy, and on diagnosis, so that the disease can be detected quickly and effectively.
But a spokesman for the Rarer Cancers Foundation said: 'Describing all treatments near the end of life as futile is tantamount to writing patients off - just because they cannot be 'cured' does not mean that we cannot give them valuable treatment, care and support.'
The NHS is reported to have spent £5.86 billion on cancer in 2009-10, which represents 5.6 per cent of its total budget. Spending on breast cancer alone has risen by 10 per cent in each of the past four years.
Meanwhile, the number of cancer drugs has tripled from 35 in the 1970s to almost 100, while new imaging techniques, such as MRI scans, are becoming more popular and expensive.
Sir Michael Rawlins, the chairman of the rationing body Nice, has defended its decision to deny general access to expensive new cancer drugs on the NHS, on the grounds that this will help sufferers of other diseases.
The Department of Health meanwhile says: "The Cancer Drug Fund is helping more people get access to the drugs they need. Between October 2010 and April 2011, almost 2,500 benefitted from the fund.
In the long-term we are changing the way drugs are priced to ensure value for the NHS and better access for patients."
Celebrity news, beauty, fashion advice, and fascinating features, delivered straight to your inbox!