Contraceptive coil halves cervical cancer risk
New research from Spain suggests that contraceptive intrauterine devices could substantially reduce the risk of women developing cervical cancer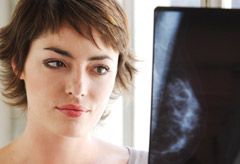 (Image credit: Rex Features)
New research from Spain suggests that contraceptive intrauterine devices could substantially reduce the risk of women developing cervical cancer
Around 2,800 women are diagnosed with cervical cancer each year in the UK, but new research from Spain suggests that contraceptive intrauterine devices - better known as the contraceptive coil - could decrease the risk of women developing cervical cancer.
In a study of more than 20,000 women who had used the device inserted into the womb to prevent sperm meeting an egg were around half as likely to develop the cancer.
The authors of the study concluded in the The Lancet Oncology: 'Our data suggests that use of IUDs significantly reduce the risk of cervical cancer and that this effect does not seem to be due to differences in screening histories between users and non-users.'
Jessica Harris, health information manager at Cancer Research UK, says: 'This study opens up an interesting new avenue for research, but there are still lots of unanswered questions.
'It's not clear how this effect is happeneing, and whether it's IUD use itself that is causing the reduced risk, or something else linked to both IUD use and cervical cancer,' she says. 'Answering these questions could help us understand more about how cervical cancer develops after HPV infection.'
In a linked comment to the research, Karl Ulrich Petry from the Klinikum Wolfsburg in Germany writes: 'The surprising results should spark new research and might lead to revision of our current understanding of the genesis of cervical cancer.'
Celebrity news, beauty, fashion advice, and fascinating features, delivered straight to your inbox!