Breast cancer screening must begin at 40
Women should be educated about the importance of breast screening at an earlier age according to new research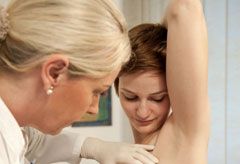 (Image credit: Rex Features)
Women should be educated about the importance of breast screening at an earlier age according to new research
With breast cancer rates rising, leading specialists warn that all women should undergo screening from the age of 40.
The total of women diagnosed with breast cancer has almost doubled in the past 20 years, from 25,124 in 1980, to 40,467 in 2000.
At present, women are routinely screened from the age of 50 for the potentially lethal disease, but Gill Ross, clinical oncologist at London's Royal Marsden cancer hospital, thinks that this may be too late.
'I think women should be having breast awareness and screening at 40. In France and Italy, many women start having their breasts examined and having mammograms from 40,' says Ross.
Kefah Mokbel, consultant breast surgeon at St George's Hospital in Tooting, agrees. He believes that women in their forties are not given enough information about the risks they face, and suggests many women would be willing to pay for screening.
'Screening from 40 to 49 reduces mortality by at least 25 per cent,' says Mokbel. 'The evidence is there and it is undisputed, but it has been ignored simply because of the cost.'
It's no secret that the NHS is already short on funds so with cancer rates rising, women who opt for testing in their 40s may be asked to contribute £150. But this, say the experts, is a price worth paying. 'An annual mammogram may be something that women ought to think about paying for themselves,' says Ross.
Celebrity news, beauty, fashion advice, and fascinating features, delivered straight to your inbox!