Breast implant surgeons don't put women first
Surgeons who profit from the breast implant industry should be made fully accountable following the PIP scandal surrounding leaking implants and long-term health problems in some women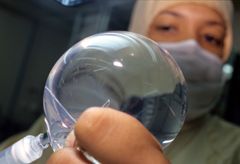 (Image credit: REX)
Surgeons who profit from the breast implant industry should be made fully accountable following the PIP scandal surrounding leaking implants and long-term health problems in some women
Surgeons who profit from the breast implant industry should be made fully accountable following the scandal surrounding leaking implants and long-term health problems.
Up to 5,000 British women have had Rofil M breast implants supplied by the French firm PIP and rebranded by Dutch supplier Rofil.
FEARS OVER FAULTY BREAST IMPLANTS
'It is crucial that women know about these implants and know that if they have a Rofil M-implant fitted, it means the same as having a PIP implant,' says Jo Tooley, who spent £5,700 to have her implants removed after one split.
The Dutch health authorities banned the sale of Rofil M-implants and PIP in 2010 but experts believe the faulty breast implants are still on sale due to reports of the implants being used in Estonia as recently as two months ago.
'Those with M-implants should seek advice,' says plastic surgeon Simon Withey, who is advising the government on the scandal.
'I would suggest they do not seek advice from the surgeon who put them in because I suspect they are probably not going to give the best advice.'
Yesterday, health secretary Andrew Lansley said he would consider creating a British breast implant register to help track problems with implants much earlier to avoid distress.
Private healthcare company, Nuffield Health, yesterday agreed to pay to remove PIP implants from its former breast enlargement patients if there was clinical need, including psychological distress.
Tell us YOUR view in the box below.
FEARS OVER FAULTY BREAST IMPLANTS
Celebrity news, beauty, fashion advice, and fascinating features, delivered straight to your inbox!