Lifestyle blamed for rising breast cancer figures
Up to 47,700 women are diagnosed with breast cancer every year, with new figures claiming one in eight will develop the disease in their lifetime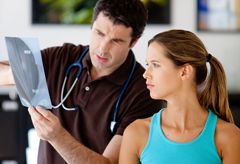 (Image credit: Rex Features)
Up to 47,700 women are diagnosed with breast cancer every year, with new figures claiming one in eight will develop the disease in their lifetime
Alarming new figures suggest one in eight women will develop breast cancer, with scientists fearing that a culmination of obesity, alcohol and delayed motherhood are partly to blame.
Experts have described the statistics as a 'wake up call' and say the disease could be avoided if women took more care of their health by drinking less, exercising and maintaining a healthy weight.
'It is also linked to a woman's reproductive history,' says Dr Kat Arney, from Cancer Research UK. 'If a woman starts having children earlier in life she is less at risk.'
Scientists believe the sex hormone oestrogen, which declines during pregnancy, triggers some forms of breast cancer. Women who delay motherhood are therefore exposed to oestrogen for a higher proportion of their lives putting them at higher risk.
Hormone replacement therapy, used by millions of women each year to combat the symptoms of menopause, is also being blamed, with almost half of those diagnosed aged between 50 and 69.
Medics, however, are eager to point out that treatment has substantially improved compared to just ten years ago. 'More women are developing breast cancer, but survival is improving thanks to breakthroughs in breast awareness, screening and treatment,' says Dr Rachel Greig, of Breakthrough Breast Cancer.
A major study by the World Cancer Research Fund in 2009 suggested more than 40% of breast cancers could be prevented if women made some simple lifestyle changes. Dr Greig rsuggests 'a two-pronged attack is needed – commitment to research into the causes of breast cancer, and women arming themselves with knowledge of the risks that may contribute to the disease.'
Sara Hiom, director of health information at Cancer Research UK, said: 'Cutting back on alcohol by keeping within government recommended limits of no more than 14 units a week can help.'
'Taking more exercise and eating a diet high in fibre but low in saturated fat can help maintain a healthy weight - which in turn reduces breast cancer risk,' she says.
For more information on being breast aware visit http://breakthrough.org.uk/
Celebrity news, beauty, fashion advice, and fascinating features, delivered straight to your inbox!