Quinoa: Why we reckon you'll want to make this a part of your diet
After reading this you'll want to make this new superfood a part of your diet.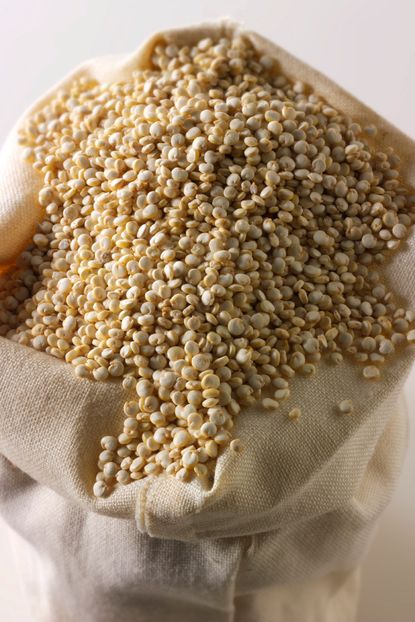 (Image credit: Rex Features)
After reading this you'll want to make this new superfood a part of your diet.
Quinoa (pronounced 'keen-wah') is having a moment right now. In fact, the United Nations General Assembly even declared 2013 as the 'International Year of Quinoa'. And we're still loving it.
So what's all the fuss about?
Well, it's starting to be called a 'superfood' and is about to become your go-to ingredient if you're looking to lose weight because it's extremely rich in complete protein and complex carbs.
Expert nutrionist Fiona Hunter says: 'Quinoa has a low GI and contains around almost twice as much protein as rice and almost three times more protein than couscous, which makes it good choice for anyone watching their weight because protein rich foods help you feel full quicker and stay feeling full for longer.'
In fact, quinoa contains so much protein that the World Health Organisation equates the protein levels in quinoa to the amount found in milk.
The weight loss benefits aren't the reason quinoa has started to be thought of as a superfood, though. The nutritional values of the grain are staggering, Fiona told us: 'It also contains useful amounts of phosphorus, calcium, iron, vitamin E and B group vitamins as well as fibre.'
These are all essential for building and maintaining healthy bones and teeth, releasing energy steadily, reducing cholesterol and preventing disease.
Sounds good, right? Well the plus points don't stop there.
Quinoa is also gluten-free and cholesterol-free, making it essential for people with restricted diets. Incorporating it into your diet couldn't be easier. Nutrionist Fiona says: 'It has a delicious nutty flavour and and interesting texture. It can be boiled and used instead of rice for salads or pilafs, to make stuffings or as an accompaniment to stews and casserole. It is also available as flour and is added to breakfast cereals.'
With this in mind, why not try the delicious recipes below and let us know if you're a quinoa convert:
British Asparagus, Quinoa and Smoked Chicken Salad (Serves: 2)
Ingredients: 180g quinoa 1 bundle British asparagus, cut into 2-3 cm strips 250g cooked smoked chicken, diced 150g baby cherry tomatoes, halved 30g sun blush tomatoes, finely diced Salt and freshly ground pepper, to taste Dukkah to garnish (optional - see note below)
How to make: 1. Wash the quinoa thoroughly then place in a saucepan with 360ml of cold water, bring to the boil then reduce the heat and simmer gently for 10 minutes. 2. Add the asparagus to pan with the quinoa in and continue to cook for 5mins or until the asparagus is tender and all the water has been absorbed. Set aside to cool. 3. Transfer the quinoa and asparagus into a large bowl. Stir in the chicken, fresh and sunblush tomatoes. 4. Season to taste and garnish with a sprinkle of Dukkah
Cook's note: Dukkah is an Egyptian spice mix made from a blend of nuts and seeds and spices. It is available in Marks & Spencer or you can make it.
Ingredients: 4 tbsp sesame seeds 2 tbsp cumin seeds 1 tbsp ground coriander Pinch dried chilli flakes, optional 50g hazelnuts, finely chopped ½ teaspoon salt
How to make: 1. Dry fry the sesame seeds, cumin and coriander for 3 minutes, in a non stick frying pan over a low heat, moving them about until they start to smell fragrant. Tip them out onto a plate. 2. Add the hazelnuts to the frying pan and fry for 1-2 minutes or until lightly golden. Stir the nuts, salt and chilli into seed mixture. 3. Store in an airtight container for up to 1 week.
Chicken Quinoa Balti (Serves 4) Ingredients: 1tsp olive oil 2 large onions, thickly sliced 4 skinless chicken breasts, diced 50g Balti curry paste 200g Great Scot Quinoa 1x400g can chopped tomatoes 1lt chicken stock 50g unsalted cashew nuts Small bunch fresh coriander leaves, chopped Salt & black pepper
How to make: 1.Heat the oil in a large pan over a medium heat, add the onions & fry for 5 minutes or until soft. 2.Add the chicken and fry for 1 minute until lightly browned. 3.Stir in the balti paste and quinoa, fry for 2 minutes. 4.Stir in the tomatoes and stock, simmer for 20 minutes until the quinoa is soft and cooked. 5.Stir in the cashews, most of the coriander and season to taste. 6.Garnish with the rest of the coriander to serve.
To Serve: Serve with warm Naan bread
Fiona Hunter is a nutrionist and food writer, visit her website for more information.
The chicken balti recipe was provided by Whitworths, the UK's leading supplier of dried fruit, nuts and seeds, including quinoa.
The salad recipe was provided by British Asparagus.
Celebrity news, beauty, fashion advice, and fascinating features, delivered straight to your inbox!