Dear Dolly: How do I make friends at work
Dolly spills the tea...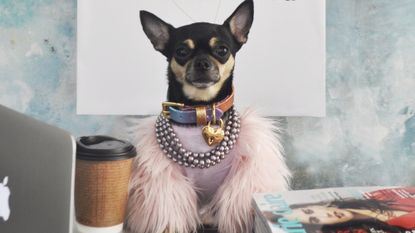 Dolly spills the tea...
So what better way to pick up the mood in March by getting the hell away from all you know.
I don't know about you but I've always loved to travel, seeking new places, adventures and most of all the promise of new people with new energy.
When an invite came through the door on yet another rainy day in London. You know the ones, when days look like night and the nights that are usually partied away are non existent as it's bloody cold, dark and wet and not in a good way. Those long summer days will be back but while we wait for spring to finally make an appearance I like to fill the darker days with beauty in other ways.
The postman's sack was extra large when he came with an unexpected parcel in the form of a London stay. Now you know I love the coast and within weeks I was living on my very own island but first came a stay closer to home. Now if it's a nod to the 1920's transatlantic cruise liner living takes your fancy, Sea containers London will not disappoint. It's not my first stay and I can guarantee it won't be my last.
The larger than life iconic 'Tom Dixon' blue boating knot welcomes you into the super imposing lobby. Once I'd checked in and been shown to my suite the double wrap around balcony was a pleasant surprise over looking the Thames with St Paul's Cathedral in view. The London eye and Big Ben himself there full frontal. You could claim a London site seeing tour from your room.
The slow drift of boats in view was heavenly calming and I had to pinch myself a few times to remind myself I was in fact in central London. The bed was huge! So much so that I measured my own at home against it. Thinking I was completely sold the wrong size as in the containers it was generously large and we all know how I love it big. Quality is always my focus and the linen was so soft I would of happily stayed there a few more nights.
Room service was exercised, well you know I do like a bit of luxe and again the sea bass was so fresh my night in the sea containers really was like being at sea.
The cocktail selection was longer than my list of ex boyfriends and tasted a hell of lot better! Thanks Sea containers London for one of my best central London stays! Now get that room permanently reserved under Kween!
I can't believe we are in the third month of 2019 and I've already been away three times! My 2019 wish list of putting myself about a bit has really taken a whole knew meaning.
This time the location was completely, utterly and quite literally on top of the sea.
I was treated to exactly what I deserve as far as I'm concerned my very own island. Yes you heard me right. I was living for a week over the sea on an island, a bloody rock with the most beautiful house on top. A private bridge which suspended you across the sand, crashing waves and pure untouched nature.
Much like myself! (Yeah right) You embark on the truly unique way to enter the property across the bridge to the three bed, three bath, six sleeper house that was something like out of a fairy tale. I am known for never getting the happy ending... BUT this coastal gem really delivered and I wasn't left disappointed. With its very own selection of flags you can fly from 'The Island' property, you can state your residency on arrival. I do love a bit of flag flying and got straight to marking my territory.
With New England interiors and the most tropical of palms that hug the house. This stunning piece of the world was Newquay, Cornwall. You would expect me to be mentioning check-ins, flight delays and all the other hellish bits that can go along with travel. BUT NO this was a drive away and you are transported to a whole other world.
The beach below the property with aqua water, surfers to view from pretty much every room. A stone throw from the best restaurants, cafes and local stores really was a luxury trip that could of housed a whole family. Equally provide a purely indulgent romantic break or like me, a hide away for a week to take long strolls along the beach, discover how it feels to live on an island and lavish in the sound of waves at night in the silence is all that I will take from my idyllic stay at The island.
Head to Boutique Retreats If you want to make memories that will last a life time anytime of the year, rain or shine.
What Would Dolly Pawton Do?
Dear Dolly,
I have started a new job in the city and I feel completely out of my depth. I am qualified and the pay is really good. So it's nothing like that. I've been there nearly 5 months and still I feel alone. No one asks me out after work. They all go and I just go home. When I go to make coffee sometimes it just seems like everyone there is talking and recently I've felt like they may be speaking about me too! I am not a very out going person but at my last job I had friends. Please let me know what to do as I am starting to dislike my job because of it?
Anonymous, The city London
Dear In the City London,
I feel your pain. It's not nice ever to feel ignored. It's a hard one as I am not sure exactly where you work, your role etc but on the info you have given me I think it's time to stand up and make yourself included! It's worth a try and what have you got to lose?
Sometimes it's more about other people than us. So these colleagues may just be in a routine, completely ignorant to leaving you out. You have to then include yourself also a little, not easy I know as it seems everyone has bonded. Time to get bonding City Girl! Start by talking to someone when they are alone. It's easier to face one person often than a group. Ask what they are doing at the weekend etc... Also if it's a friday tackle more than one person, maybe two together over that coffee station. Perhaps ask what they will be doing after work? Effectively inviting yourself. Gurl if you wanna be included it's time to make yourself. If all else fails grab a cocktail, come over to @dolly_pawton and slide into my DM's you are always welcome. The city can be a lonely place but you are wanted, needed and loved! Now go show them what they've been missing.
London Love,
Dolly Pawton xx
Celebrity news, beauty, fashion advice, and fascinating features, delivered straight to your inbox!