Black sesame benefits you should definitely know about
Long luscious locks, here we come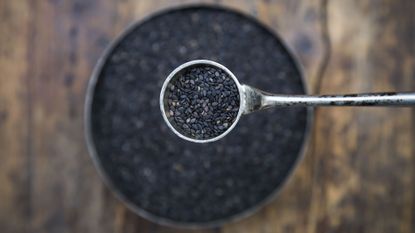 (Image credit: REX/Shutterstock)
Long luscious locks, here we come
Though they may be small, sesame seeds pack a massive nutritional punch and have been used for years in traditional medicine practices. While you're more likely to see them slapped on top of a bagel in the Western world, the health and beauty industries have been cottoning onto the fact that they could be the next big thing.
These tiny little seeds can be added to your porridge, juice or used in cooking as sesame oil (seriously, sesame noodles will change your life). And naturally, a number of places have added it to their natural beauty products for an extra boost - but more on that later.
Black sesame benefits
Black sesame seeds have been hailed for years as a powerful anti-ageing supplement by traditional Chinese and Ayurvedic medicine and to be honest, there could be something to it. They're packed full of B vitamins, amino acids and minerals such as iron, copper, phosphorus, plus they're laced with powerful anti-oxidants like sesamin.
They're also a rich source of calcium and zinc, which are used to keep your bones strong so you can continue to kick ass. And nothing keeps your skin glowier than a dose of vitamin E, which - coincidentally - sesame is pretty rich in.
Black sesame oil for hair
While sesame seeds can't reverse time, they can do wonders for preventative ageing - especially for hair. Its nutrients nourish the scalp and also boost melanin production, which is responsible for creating hair pigments (so goodbye grey hairs!). As such, there's a number of sesame and sesame oil hair products out there worth taking a look at especially if you're not keen on silver fox-ing just quite yet.
Giggling Squid's co-founder Pranee Laurillard swears by them. She said, 'I love black sesame! They may be small but they're packed full of nutrients. Back in Thailand, we think of them as one of the best anti-ageing foods – friends swear they're also good for reducing grey hair. If you dry roast them lightly, their nutty flavour becomes more pronounced.'
Black sesame products
Foods Alive Black Sesame Seeds, iHerb
Get all your nutrients right from the source and buy your sesame seeds in bulk. Add to your granola, baked goods, porridge and more - the options are endless.
Shop now: Foods Alive Black Sesame Seeds from iHerb
Spectrum Naturals Organic Sesame Oil, iHerb
Swap out your regular cooking oil for a dash of sesame, which will add a nutty undertone to your meals.
Shop now: Spectrum Naturals Organic Sesame Oil from iHerb
The Sunblock SPF30, Lush
This sesame oil and cocoa butter block is a great shout and a unique way to prioritise your SPF. Simply slide it on like a block of soap (don't worry, you don't need to wash it off) and you'll be good to go - plus, thanks to the hints of rose absolute, chamomile blue and eucalyptus you'll smell fantastic all day long.
Shop now: The Sunblock from Lush
Caudalie Divine Oil, Cult Beauty
This bottle of ambrosia does everything, from much needed hair treatments to saving your cuticles. Combining the best the natural world has to offer with grape, hibiscus, sesame and argan oils, it's a deeply hydrating product you'll be reaching for again and again.
Shop now: Caudalie Divine Oil from Cult Beauty
Mauli Rituals Grow Strong Hair Oil, Net-a-Porter
So we've previously waxed lyrical about Mauli in our natural beauty roundup and their Grow Strong hair oil is certainly helping their case. Blending together 15 Ayurvedic ingredients such as sesame, argan, cedarwood, moringa and Indian gooseberries just to name a few, it's what you'll need in those winter months to fight off dandruff and split ends.
Shop now: Mauli Rituals Grow Strong Hair Oil from Net-a-Porter
The great thing is about natural beauty is that it's not too expensive, so if you're looking for an affordable way to upgrade your gear - then this is it.
Just mind you don't drop the sesame seed bag...
Celebrity news, beauty, fashion advice, and fascinating features, delivered straight to your inbox!
Megan is a freelance journalist who covers entertainment and all things lifestyle, with a particular passion for fashion, beauty, travel and Keanu Reeves stories. She has previously worked on staff for titles including Marie Claire UK, CNN Style and The Evening Standard and has written for titles such as Bustle UK, Wallpaper*, Forbes and Hong Kong Tatler. She splits her time between London and her hometown Hong Kong, where she currently lives with the love of her life - an elderly dog named Poppy - and her husband.