Met Ball 2014: The Best Instagram Pics
The Met Ball saw the most stylish A-listers hit New York last night and thanks to their selfie obsession, we've got a backstage ticket through Instagram. Don't miss the best candid snaps from inside the VIP party...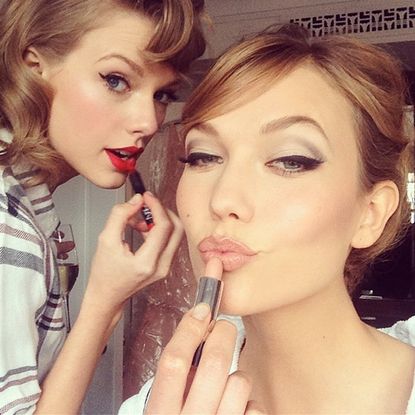 (Image credit: Instagram)
The Met Ball saw the most stylish A-listers hit New York last night and thanks to their selfie obsession, we've got a backstage ticket through Instagram. Don't miss the best candid snaps from inside the VIP party...
The Met Ball's high profile guest listers are pretty savvy with their Instagramming, luckily for us. Go inside the Met Ball 2014 covering every detail from the pre-pamper regimes to the post-party feet up slump (a la Chanel Iman) because it's time to see the Met Gala through the stars' eyes.
The Met Ball 2014: Instagram Pictures
Kicking off the celebrity self-photo collection were Karlie Kloss and Taylor Swift, once again flaunting their high profile BFF status and sharing in a lipstick selfie from the dressing rooms.
Stella Tweets Picture Of Cara Delevingne
Cara Delevingne couldn't be happier to have arrived at the Met Ball as she over-enjoys her surroundings with Stella McCartney captioning, 'We made it!'

Stella Embroidered Underwear For Cara Delevingne
Being dressed in her finest garms for the prestigious Met Gala, Cara Delevingne enjoyed the special treatement from Stella McCartney - even down to the finest detail. Cara snapped these adorable personalised pants, especially for the big occasion.

Stella, Reese, Cara And Kate Bosworth Have A Dance Party In The Street
All dressed in the Brit designer's finest, Stella McCartney's gang was certainly one we wanted to be a part of. She strikes a pose with Hollywood pals Reese Witherspoon and Kate Bosworth as well as Cara Delevingne.

Victoria And David Beckham
Mario Testino caught this snap of power pair Victoria and David Beckham as they dazzled the crowds in coordinating minimalist white outfits.

Sean Penn And Charlize Theron
Sean Penn and Charlize Theron are caught giggling all the way to the after party as the Met Gala extends long into the night.

Joudan Dunn And Toni Garrn
Toni Garrn was ready to recline in the back of her ride as she asked 'Why Don't They Make Cars With Beds?' in the back seat with Jourdan Dunn. All that pre-party pampering sure is exhausting.

Kendall Jenner Just Can't Sit Still In The Car
The excitement all proved a little too much for first time Met Baller Kendall Jenner who tweeted this snap from her party ride, simply saying 'Nope Can't Sit.'
Katie Holmes Tweets Her Excitement At Going To The Ball
A new-to-Twitter Katie Holmes shared this snap of her prep for the Met Gala saying just how excited she was to be going.

Karen Elson Worries It'll Be A Tight Squeeze Into The Cab
Karen Elson oozes pure Hollywood glamour in this classic black and white Instagram photo.

Kim And Kanye West Are Photobombed By Rosie And Oliver Rousteing
Kim Kardashian and Kanye West flaunt their secret friendship with Rosie Huntington-Whiteley as the couple grab a seriously cool snap with the model and Oliver Rousteing.

Diane von Furstenberg Grabs A Snap With Jessica Alba And Selena Gomez
Never one to shy away from an Instagram snap, Jessica Alba stole a picture with Diane von Furstenberg and Selena Gomez as the trio prepped for the big 'do.

Georgia May Jagger Instagrams Princess Suki Waterhouse
Burberry model Suki Waterhouse remained faithful to the Brit brand as she sported a gorgeous princess gown.

Cara Delevingne Rises And Shines For Met Ball Day
Cara Delevingne wished the world a Happy Met Gala Day showing off her pre-makeup brows from bed.

Victoria Secret Glam Squad
Ta-da - Lily Aldridge showed off a Pretty Woman choker in her Michael Kors ensemble.

Karen Elson Is 'All Glammed Up'
Karen Elson revealed her untidy side alongside her pristine Met Gala look with a messy hotel room forming the background to her glam selfie.

Toni Garrn Preps For The Met Ball
On the way to that perfect hair look, Toni Garrn revealed the prep for her big hair look.

Suki Waterhouse
Suki Waterhouse looked ready to party as she contrasted a bold red lip against her soft-coloured Burberry gown.

Reese Witherspoon
Hollywood royalty Reese Witherspoon joined Stella McCartney's glam squad as she was dressed a fabulous pink sweetheart gown.

Kate Upton Preps With Some Personalised Champagne
Kate Upton gets Met Gala ready with Dolce and Gabbana - and she sure knows how to party as she's treated to personalised champers.

Emmy Rossum Wears Carolina Herrera
'Feeling Like A Princess', Emmy Rossum shared this up-close picture of her Caroline Herrera gown.

Victoria And David Beckham Are Matching In Monochrome
Victoria and David Beckham showed off their best Mr and Mrs red carpet outfits in white as the power pair posed for Mario Testino.

Stella McCartney Instagrams Her Dressing Room
Stella McCartney surprised Cara Delevingne with some supersize silver balloons as they began a full afternoon of pre-Met Gala pampering.

Emmy Rossum Clutches Her Alexandra Mini In Electric Blue Python
Emmy Rossum shared a close up of her bright red nails as she proudly clutches a blue python Alexandra Mini.

Chanel Iman Arriving Home
Chanel Iman proved she could party until she literally dropped as she was seen reclining in bare feet after the Met Gala.

Rita Ora Gives Joan Smalls Legs
Rita Ora gives Joan Smalls a little leg in the dining area at the Met Ball as the platinum starlet shows off some choice thigh-high garments.


Kim Kardashian Adds The Finishing Touches To Her Met Ball Ensemble
Kim Kardashian reveals a first look at her Met Gala outfit (and also all the hands that go in to making it picture-perfect).

Dita Von Teese Wows With The Camera Phones
Dita von Teese shows off her killer curves in a fishtail gown as she's snapped from every angle in her dressing room.

Christy Turlington Walks The Red Carpet With Ed Burns
Red carpet selfless are obligatory at the Met Gala, and so proves Chrissie Turlington who turned the camera on her and movie star hubby Ed Burns.


Georgia May Jagger And Suki Waterhouse Show Off Their Flawless Finish
Even at close range, Georgia May Jagger and Suki Waterhouse look pixel-perfect as the celebrity best friends share a last minute selfie.

Cara Delevingne's Dates For The Evening Are Something Else
Cara Delevingne shared this snap of her dates for the evening, as Rihanna steps in for the group photo.

Joan Smalls Shows Off Her Pedi
Sporting some ultra-glam poolside sliders, Joan Smalls shows off her pedicure with a simple 'toes done' caption.


Blake Lively And Ryan Reynolds
Stealing the perfect power couple crown from Victoria and David Beckham, Blake Lively and hubby Ryan Reynolds made everyone coo over their red carpet PDAs.

Cara Delevingne Gets Her Make-Up Did By A Three-Strong Team
Cara Delevingne revals a three-strong make-up team as the Met Gala prep intensifies.

Lily Allen Is Snapped By Alexa Chung
Lily Allen is caught in the act taking a cheeky sit down on the side lines with Alexa Chung.

Stefano Gabbana Tweets A Pic of Tabitha Simmons
Stefano Gabbana proudly shared this snap of one of her 3D floral creations for Tabitha Simmons.

Jourdan Dunn Instagrams 'Ready'
Jourdan Dunn trumped the high profile designer ensembles as she stepped out in Topshop for the red carpet event - and boy did she look good.

Ivanka Trump Samples Her Daughter's Princess Gown