Mary Quant, the style icon who changed the face of '60s fashion, has passed away at the age of 93
She revolutionised fashion and caused a 'youthquake' with her miniskirts and bold patterns.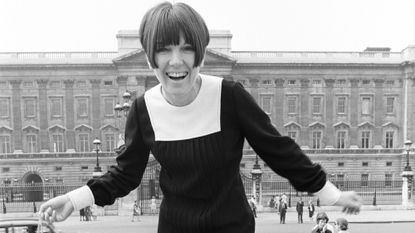 (Image credit: Getty Images)
The girl tap-dancing in the room next to Mary Quant's ballet class was older than she was. But that wasn't why Quant couldn't take her eyes off her: it was what she was wearing that transfixed her. '[She was] the vision of everything I wanted to be… bobbed hair, wearing a black skinny-rib sweater, seven inches of black pleated skirt, black tights under white ankle socks and black patent leather shoes with ankle straps,' Quant would recall of the late 30s encounter. 'The image of that girl stayed with me and I started trying to make my own clothes [by] cutting up bedspreads. That's all I wanted to do: design clothes.'
What she ended up doing was so much more than that: Quant revolutionised the way women dressed. A key figure of the Swinging Sixties, chief among her achievements was 'inventing' the miniskirt, pioneering mass-production fashion and modernising the beauty industry's approach to cosmetics.
Today, it was announced that at 93 she has sadly passed away.
In 2019, to celebrate her status as one of the 20th century's most influential designers, the V&A museum in London staged a retrospective of Quant's work from 1955, when her first shop opened on Chelsea's King's Road, to 1975. Among the exhibits were rare Quant outfits donated by former customers after the museum launched a #wewantquant call-out. 'Mary Quant transformed the fashion system, overturning the dominance of luxury couture from Paris,' said exhibition co-curator Jenny Lister, at the time. 'She dressed the liberated woman, freed from rules and regulations, and from dressing like their mothers.'
Born Barbara Mary Quant in London's Blackheath on 11 February 1934, her Welsh-born parents, Jack and Mildred, were academics and moved to the capital to teach. When Quant turned 16, she enrolled at Goldsmiths, University of London. She wanted to go to fashion school, but her mother and father refused, fearing there was no future in it. However, when she graduated in 1953, London was experiencing a seismic social and cultural shift driven by the younger generation's rejection of the post-war status quo. Quant and her then-boyfriend, Alexander Plunket Greene, were at the epicentre of this 'youthquake'. They'd met at a Goldsmiths fancy dress ball and she was 'simply bowled over' by the '6ft 2in prototype for Mick Jagger and Paul McCartney rolled into one'. APG, her nickname for him, was equally captivated, saying it was 'lust at first sight'.
In 1955, by which time 21-year-old Quant was working at a Mayfair milliner, the couple opened their first shop, Bazaar, on the King's Road. At first, she was the store's buyer, but Greene soon persuaded her to sell her own designs, in particular her daring skirts cut six inches above the knee – aka the miniskirt. Quant wasn't the first designer to drastically shorten hemlines: André Courrèges was already doing it in Paris. She can, however, unequivocally take ownership of inventing the term 'miniskirt' – reportedly named after her favourite car, the Mini – and also for taking the design mass market. 'The 60s mini was the most self-indulgent, optimistic "look at me, isn't life wonderful" fashion ever devised,' she has said of her iconic look. One of the era's most famous models, Sandra Paul (now Sandra Howard, wife of former Conservative party leader Michael Howard), remarked, '[Quant's] was simply the only look anyone cared about.'
As her brand's best ambassador, Quant wore her own designs with aplomb and lost her swishy ponytail in favour of Vidal Sassoon's five-point geometric cut. Greene was also a master of marketing, designing shopping bags to match the store's logo and making them a badge of honour for customers. Bazaar was a melting pot of loud music, free drinks and eclectic window displays, prompting men in bowler hats to bang the shop front with their umbrellas and holler 'immoral!' and 'disgusting!' in protest. But Quant was undeterred. Her designs expanded to include hipster pants, tunic dresses, Peter Pan collars, pinafore dresses, skinny-rib sweaters, hot pants and wet-look PVC (a material unused in fashion before Quant). She also introduced the concept of colourful and patterned tights – a marvel, when you consider only a few years previously women were colouring their legs with gravy to make it look as though they were encased in nylon. 'Tights didn't exist,' said Quant. 'There were only pantomime tights for theatre. I went to theatrical manufacturers and got them to make them for me in the colours I wanted.'
Quant and Greene married in 1957 when she was 23, and the couple opened their second store in Knightsbridge. Although he worshipped her, and she him, their marriage wasn't without its issues. 'He was a monstrous womaniser… we had great battles about it,' she says. 'I turned a blind eye as much as one could, then I would hurl things. He was loyal at the same time, though. Unfaithful, but loyal.' Rumours of infidelity also dogged Quant. When she famously blurted out in an interview that she'd allowed Greene to shave her pubic hair into a heart, John Lennon sent her suggestions of other shapes she should try. 'I had known him since he bought his black leather cap from our shop [which he was famously pictured wearing at Heathrow Airport in 1964],' she recalled. 'We met in clubs and were affectionate friends until the press gossiped of an affair, which sad to say was unfortunately not true.' She was also erroneously linked to French actor Jean-Paul Belmondo and Princess Margaret's then-fiancé and later husband, Antony Armstrong-Jones.
Quant became a global enterprise in 1962, signing a deal with US store chain JCPenney. A year later, back in the UK, she went mass market in stores nationwide with a cheaper diffusion line called Ginger Group. Her daisy emblem had become as recognisable as the Union Jack and it's estimated that at one point seven million women in Britain owned a piece of Quant. One of those was Deborah Cherry, who has loaned her 1966 Peter Pan-collared minidress to the V&A retrospective. 'The dress was a great favourite and I wore it a lot,' she tells Marie Claire. 'I had several Quant outfits; they had a really strong feel-good factor.'
In 1966, Quant was awarded an OBE for her contribution to the fashion industry. But never one to rest on her laurels, she turned her attention to cosmetics. The dominating beauty brands – Max Factor, Helena Rubinstein, Coty – were driven by consumer wants, so make-up was homogeneous and safe. 'Eyeshadow had to be blue, green or purple,' said Quant. 'Packaging was always pink, gold and kidney-shaped.' So, she launched a cosmetic line in chic black packaging embossed with her daisy logo.
In 1970, she created her first homeware range with ICI, owner of Dulux, which included a duvet cover (when duvets were only becoming a thing here), wallpaper design and paint colours, and she also produced a perfume and a doll, named Daisy, thus becoming the first designer with a portfolio brand. But as the 80s dawned, Quant's designs were being eschewed for the 'power dressing' silhouette.
Then, in 1990, at the age of 57, Greene died. The couple were living in Surrey with their only child, Orlando, who was born in 1970. Quant described her husband's death as 'unbearable' and later revealed it was related to excessive alcohol consumption. Eventually, she found solace with one of his oldest friends, Antony Rouse. 'He suggested we had some unfinished business,' she wrote in her autobiography. 'We'd always flirted on and off.'
Despite being eclipsed by new trends and other designers, Quant has remained the grand dame of British fashion. In 1990, she was the recipient of the Hall of Fame award from the British Fashion Council and in 2015 she received a damehood. Now 85, she continues to work as a design consultant, having stepped down from her company in 2000 after a Japanese buyout, and collaborated with the V&A by giving it unprecedented access to her archives. 'It was a wonderfully exciting time and, despite the frenetic hard work, we had enormous fun,' she said of the era the exhibition covers. 'We didn't necessarily realise that what we were creating was pioneering, we were simply too busy relishing all the opportunities.'
Celebrity news, beauty, fashion advice, and fascinating features, delivered straight to your inbox!
Michelle Davies is a freelance journalist and has written several Life Stories from Mary Quant to Tina Turner for British Marie Claire (amongst other features). Davies is an accomplished author with one crime novel under her belt and has also written for titles such as Essentials, YOU and Stylist. Her last staff job before going freelance was as Editor-at-Large at Grazia and she was previously Features Editor at heat. She began her career straight from school at 18, working as a trainee reporter on her home-town newspaper, the Bucks Free Press.