My Life in Fashion: Philipp Plein
Philipp Plein's Fashion Week shows are famous (robots carrying bags, giant Ferris wheels...) and he's just opened a new London store. But how did a former furniture designer from Munich become a rock and roll fashion star?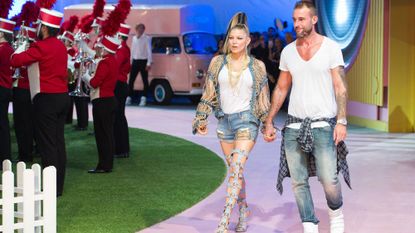 (Image credit: Imaxtree)
Philipp Plein's Fashion Week shows are famous (robots carrying bags, giant Ferris wheels...) and he's just opened a new London store. But how did a former furniture designer from Munich become a rock and roll fashion star?
A Philipp Plein Fashion Week show is a byword for extravagant theatrics - he's put robots on the catwalk and built a giant Ferris wheel, among other Insta-buzz-creating moments. His label is 9 years old, and he's becoming known for making serious noise.
Plein showed during New York Fashion Week for the first time in February (he's previously shown his collection in Milan) and he's just opened a store on New Bond Street – complete with giant skull glittering at you in the entrance. His rock-star-ready clothes (leather, lace, and lashings of vamp) are definitely not for wallflowers. And the 39-year-old, born into a middle-class German family, isn't one either. But in person, he's a lot more thoughtful, serious and frankly philosophical than his outre fashion persona would suggest. So how did a former furniture designer who wanted to be a lawyer become a buzzed-about fashion man? We met him to hear all about it...
Plein's clothes bring all the boys to the yard - just ask Julia Restoin Roitfeld and Rita Ora
Tell us about your unusual career path...
"I was meant to be a doctor, because my father is a surgeon. So I applied for medical school, but then I went to the US with my best friend after college for a few weeks, and when I returned, I thought, 'actually, I don't want to be a doctor, I want to become a lawyer.'
Why was that?
"I thought, all of life is based on law. When you order a coffee, you have a contract with the restaurant owner. When you get married, it's a contract. Most people nowadays don't even know their rights. And that's very scary."
Bella Hadid - the perfect sultry model muse for AW16
So how did you start designing?
"I found myself living back at my parents' place while studying, and I wanted some independence. I had about £10,000 left to me by my grandfather, and I started a furniture and interior design company, designing steel furniture. My office was in my parents' basement – no overhead costs! It was a one-man show, and at some point I think turnover went up to £6 million. So it was profitable, you know?"
Where did fashion come in?
"I used to have all this Italian leather left over from the upholstery of my furniture designs. Originally, I'd sell it back to the leather companies, and they'd use it for shoes and small leather goods. And then I started making pieces to give away to clients myself. But then, our bags and accessories started to become a really requested item. And that was that…"
How did fashion compare to furniture?
"My first thought about the fashion industry was, 'oh my god, it's fucked up!" When you buy a luxury sofa, you pay 20% in advance for shipment. The design world is very serious and conservative. In fashion, nobody wanted to pay! The first time ever that I didn't get paid was when I delivered my first collection to a fashion client. And I was really not prepared for that."
So what made you carry on?
"You know, I was an entrepreneur. I needed to make money. I wanted to make money. And the economic crisis has actually been a huge opportunity – when real estate prices drop, it means newer brands like me can afford them. People are afraid of change – and for the big brands who are on top, they don't want anything to change. But change is good."
Would you say you're a designer or a businessman?
"I'm a dreamer. A person without dreams doesn't have a reason to get out of bed every morning. But you have to be careful what you dream about – if it's becoming a bird, one day you'll wake up and realise it's never going to happen, because you're a human. And then you get depressed. And you know, in German, we have a phrase which is basically 'the way to realise the dream is the goal.' The real excitement and pleasure is the journey."
Time for some quick-fire questions…
Smoked salmon blini or fish and chips? "Fish and chips."
Beyonce or Taylor Swift? "Beyonce"
Side-boob or legs? "What does it mean, side boob? [I explain]. Side-boob! I like boobs!"
Mini or maxi? "Mini"
Filter or no filter? "No filter"
Philipp Plein is at 98 New Bond Street, London W1
Celebrity news, beauty, fashion advice, and fascinating features, delivered straight to your inbox!