Kendall Jenner: Style evolution
See how Kendall Jenner's fashion has changed during her rise to fame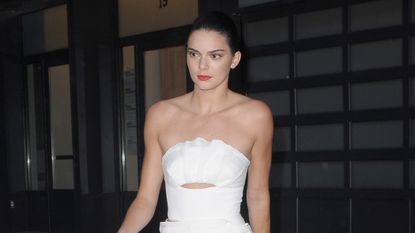 (Image credit: Rex Features (Shutterstock))
See how Kendall Jenner's fashion has changed during her rise to fame
Kendall Jenner has established herself as a style icon since taking over the fashion world as a top model.
As her profile has raised over the last few years, she's gone through quite a dramatic transformation. That's hardly surprising seeing as she first found fame on reality series Keeping Up With The Kardashians as a child.
Her approach to dressing has most certainly matured, as she's traded in demure prom-style frocks for pieces that hug her trim figure - can you blame her? We'd do pretty much anything for a toned body like Kendall's.
One thing that has remained, however, is Kendall's love of bright colours. She's got a real rainbow of clothing in her wardrobe including the shimmering emerald green gown she donned for the 2015 Met Gala and that bold blue suit she was snapped wearing out and about in 2014.
She's also got a number of show-stopping scarlet dresses that she's sported at glamorous VIP events_pg_MarieClaire.When it comes to hemlines, Kendall is happy to experiment. She's just as likely to rock a thigh-skimming mini or tiny shorts as she is an asymmetric frock or floor-sweeping maxi.
Kendall really loves to make a statement with her accessories. She's given us shoe envy on countless occasions and she owns many totes, clutches and rucksacks that we'd love to get our hands on. Fans of the different frames she wears, we'd be lying if we said we didn't want to rummage through her sunglasses drawer, too.
Another thing you'll quickly notice is that Kendall has mastered the art of dressing down. Whether she's in skinny jeans and a slouchy jumper or gym leggings and trainers, Kendall always seems to get it right.
Come with us as we take you through Kendall's fashion evolution - we're sure you'll find plenty of outfits to inspire your own sartorial choices.
First up, it's Kendall as we've never seen her before, with slicked back hair at the Givenchy show, during Paris' spring 2017 men's fashion week.
Kendall Jenner
First up, here's Kendall at the 'What Goes Around Comes Around Beverly Hills' store opening in Los Angeles.
Kendall Jenner
Out and about in Paris during Fashion Week SS17.
Kendall Jenner
Leaving her TriBeCa Apartment in New York, wearing Maticevski.
Kendall Jenner
Kendall Jenner
Kendall joined the male models on the catwalk, then slipped into this silk dress when she was off-duty.

Kendall Jenner
Over the May Bank Holiday in 2016, Kendall stepped out in the most glorious 90s outfit ever. Pass us the mom jeans, stat.


Kendall Jenner
In March 2016, Kendall proved she can work any and all fashion trends, after wearing a monochrome gingham jumpsuit to the celebration of her Kendall + Kylie line. Who knew gingham could look so good?

Kendall Jenner
Kendall wows on the Chanel catwalk at Paris Fashion Week in a low-cut black gown and statement eye make-up.
Kendall Jenner
Kendall takes airport chic to another level in her stylish pyjama-inspired ensemble.

Kendall Jenner
A cosy jumper paired with leather trousers? That's what model winter dressing is all about.

Kendall Jenner
A sleek all-black outfit for a day out in NYC.
Kendall Jenner
How to make top-to-toe black look anything but boring? With a statement sleeve top, of course.

Kendall Jenner
A muse of Olivier Rousteing, Kendall repped the Balmain designer at the launch of his collaboration with H&M. Looking effortlessly cool in a black bandeau and gold choker, Kendall oozed the designer's signature flare.

Kendall Jenner: 2015
Donning her new sleek minimalist look, Kendall sashayed the streets like the runway in a luxurious grey outfit consisting of grey wool trousers and cape. Perfect winter wardrobe #inspo.

Kendall Jenner
A low-key denim look, as seen on Kendall heading through JFK airport. Kendall pairs her casual jeans with some pointed low heels, a cool camel knit and matching cape, and a sleek top handle tote bag with pom pom detailing.
Kendall Jenner
We love this wide leg denim look, complete with sleeveless jacket, proving that Kendall knows a thing or two about low-key dressing. For her second outfit of the night, Kendall changed-up her outfit for something entirely different, and a little more statement.

Click through to see outfit number two, plus, all of Kendall's best ever style moments...






Kendall Jenner
Kendall Jenner traded in her off-duty blues, in favour of this top-to-toe white look, and totally nailed it.

Kendall Jenner
Kendall is the ultimate off-duty supermodel, seen in the hottest Stella McCartney flatform shoes of the season, complete with retro-style sunnies.





Kendall Jenner
A lesson in how to wear super-skinny jeans, Kendall works the high waist look like a pro, adding a chic black belt, a standout red top and some 90s-style shades.





Kendall Jenner
Showing off her enviably long legs, Kendall worked one of the hottest trends of the summer and opted for a sleeveless roll neck top and some tan suede boots.






Kendall Jenner
This chic off-duty denim look is all kinds of cool. Stepping out to do a spot of shopping, Kendall went for a classic pair of blue jeans, a grey marl tee, a super-cool pair of navy suede boots and a mini Celine bag draped casually across her enviable model bod.






Kendall Jenner
This cool cut-out Zimmerman maxi dress is a winner on all fronts. Keeping her look up-to-date, Kendall teamed her 70s-inspired floor-grazing dress with some equally chic gold lace-up heels.




Kendall Jenner
We love this incredible red carpet look from the ESPY Awards in LA. Sheer, black and undoubtedly elegant, Kendall has totally nailed it with this gown. Plus, that super-sleek hairdo is giving us all kinds of wedding guest inspiration.




Kendall Jenner
Kendall Jenner: 2015
Kendall Jenner: 2015
Kendall Jenner: 2015
Kendall Jenner: 2015
Kendall Jenner: 2015
Kendall Jenner: 2015
Kendall Jenner: 2015
Kendall Jenner: 2015
Kendall Jenner: 2015
Kendall Jenner
Kendall Jenner
Kendall Jenner
Kendall Jenner: 2015
Kendall Jenner: 2015
Kendall Jenner: 2014