9 Charity Buys That Are Both Genuinely Fashionable And Fabulous
There are A LOT of charity organisations that do A LOT of really, really nice clothing and accessories that we really should be buying and wearing.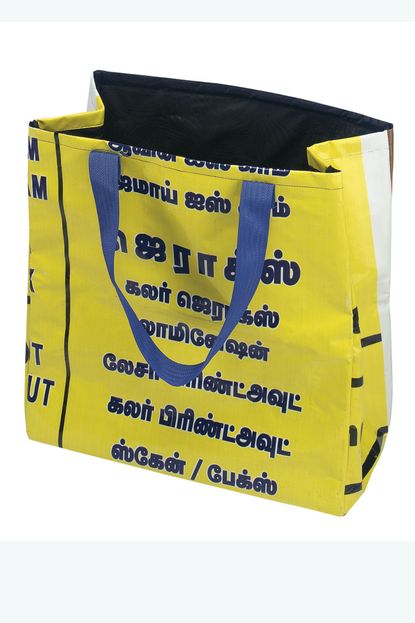 There are A LOT of charity organisations that do A LOT of really, really nice clothing and accessories that we really should be buying and wearing.
Who doesn't want to look good and do a little bit to help a good cause at the same time? It's a winning idea if you ask us. Below are some really good pieces that you should really go out and buy. It's cool to support charities, people.
Oxfam
Who doesn't know Oxfam? It's bursting with so much brilliant stuff we don't know where to start. Brimming with totally unique one-off donations from individual donors and ever so slight seconds from brands such as Whistles, bookmark the above link and browse regularly.
Alzheimer's Society
Dementia is a cruel illness. The people at Alzheimer's Society support everyone who has been affected by it. Do your bit to show the love and get one of these wash bags (pictured below). It's perfect for all your beauty bits and bobs, plus it's also floral which, as we know, is a massive SS14 trend.
Surfers Against Sewage
Surfing is the sport of the gods – think tanned, blond, muscly… this amazing charity campaigns for cleaner waters so they can all keep surfing safely. Below is the perfect travelling hoody if ever we saw one.
British Heart Foundation
They've got Vinnie Jones on board to promote their CPR campaign and the t-shirts wouldn't be out of place on the rails of Urban Outfitters or ASOS. Everyone has a heart and we should all know what to do to keep it beating. Spread the message.
Fashion Targets Breast Cancer
These guys give a percentage from each product sold to this brilliant initiative by Breakthrough Breast Cancer. Lots of mega high street brands are behind them, and they have lots of notable celebs lending their support. We will be donning these cute floral print Warehouse shorts once the sun has fully got its hat on.
New Internationalist
This brilliant and HUGE bag is sold through New Internationalist, a mega organisation that supports human rights and highlights world poverty and inequality. Each bag is a one-off and will have been made by Baladarshan, a charity based in South India.
Invisible Children
This charity supports children that have been forced to be child soldiers in Central Africa, predominantly by The LRA (read more about them here - there just isn't enough room here to fully paint the picture). Show allegiance and get the message out there with this slogan sweatshirt.
Save the Children
This actually launched three years ago but is still going strong, and we can see why. Save the Children teamed up with Bulgari - who did a huge shoot with mega photographer Fabrizio Ferri and got Hollywood's A-list (think Ben Stiller, Jessica Stam, Olivia Wilde Sting and Jessica Biel to name a few)to help raise awareness for the charity's work. A percentage of each piece sold goes straight to the charity.
Traidremade
Traidremade rework and remake unwanted clothes and fabrics into very trendy and very nice pieces. The quilted backpack is a firm favourite of ours. It's a little bit Chanel, don't you think?
Ethical fashion: 10 designers who create genuinely amazing clothes
Celebrity news, beauty, fashion advice, and fascinating features, delivered straight to your inbox!