Brie Larson on superheroes, success and her Hollywood sisterhood
At the 2016 Oscars, a reluctant star was born. So how is Brie Larson doing three years on? As she takes the lead in the Marvel franchise's most anticipated movie, she talks to Keah Brown about vulnerability, finding inner strength and her plans to diversify the film industry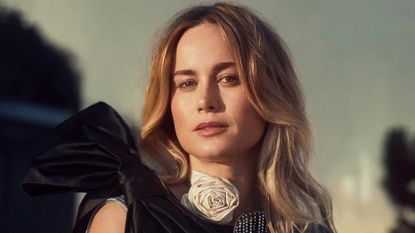 (Image credit: Photographs by Olivia Malone)
At the 2016 Oscars, a reluctant star was born. So how is Brie Larson doing three years on? As she takes the lead in the Marvel franchise's most anticipated movie, she talks to Keah Brown about vulnerability, finding inner strength and her plans to diversify the film industry
When Brie Larson won an Oscar for the 2015 movie Room, I jumped for joy as if I knew her. I hadn't even seen the film yet, but I'd just finished the moving novel by Emma Donoghue that it was based on (about a mother and her five-year-old son held captive in a room), and felt certain she had done the role of Ma justice.
I wouldn't get to know her until 2017, when we started following each other on Twitter. I was feeling insecure about being vulnerable, so when I heard her talking about her own vulnerability, I decided to reach out to her. What would follow were messages about work, life, self-care and cross-stitching. These messages were sporadic in nature. After all, we are both busy people. She is an actor, producer and director; I write about pop culture, disability (I have cerebral palsy), blackness and womanhood. But the consistent, overriding impression I always got was that Brie Larson is a person who cares about the world and the people in it.
'I've never craved the spotlight that often comes along with success in this business'
Aside from Room, the 29-year-old has starred in Trainwreck (2015), the critically-acclaimed indie film Short Term 12 (2013) and the blockbuster Kong: Skull Island (2017). Last year, she made her directorial debut in the indie comedy-drama Unicorn Store. It's an impressive body of work in a relatively short space of time, but most people might not realise that far from being the ingénue, Larson – who was born in Sacramento, before moving to LA with her mother and sister – has been working since she was a child. Best known stateside for the sitcom Raising Dad (2001) and Disney Channel movie Right On Track (2003), she also had a stint as a pop star, signing a record deal at 13. These days, as a Time's Up activist and advocate for sexual-assault survivors (she famously refused to clap when presenting Casey Affleck with an Oscar because of allegations against him), the actress utilises any power she has to be vocal about social and political issues. I can't wait to see what she does with the power that comes with her latest role – Carol Danvers/Captain Marvel in Captain Marvel, the 21st (and first female-led) film in the multimillion dollar franchise.
Meeting Larson in person for the first time, it's immediately clear why she was chosen for this role. Passionate, funny, genuine and kind, she's eager to see the diverse and inclusive world she lives in reflected back on the big screen. She might not be a superhero in real life, but she's ready to fight like one to make the world better…
I was thrilled you requested me to interview you. I thought, 'This is game-changing'. It's the biggest opportunity I've had. Nobody usually wants to take a chance on a disabled journalist. I'd love to know what your particular reasons were.
'About a year ago, I started paying attention to what my press days looked like and the critics reviewing movies, and noticed it appeared to be overwhelmingly white male. So, I spoke to Dr Stacy Smith at the USC Annenberg Inclusion Initiative, who put together a study to confirm that. Moving forward, I decided to make sure my press days were more inclusive. After speaking with you, the film critic Valerie Complex and a few other women of colour, it sounded like across the board they weren't getting the same opportunities as others. When I talked to the facilities that weren't providing it, they all had different excuses.'
And people don't realise how vast the disabled community is. It isn't just white men in wheelchairs. Some of us don't use mobility aids, others use them part-time; some disabilities are visible, others are physical but invisible. I find it so hard to see people in this industry who look like me, so if I have any sort of visibility or notoriety, I can lift somebody else up.
'I want to go out of my way to connect the dots. It just took me using the power that I've been given now as Captain Marvel. [The role] comes with all these privileges and powers that make me feel uncomfortable because I don't really need them.'
I guess you got a taste of that power with the success of Room. I heard you found promoting the film quite overwhelming.
'I've never craved the spotlight that often comes along with success in this business. It's a by-product of the profession and a sign of the times. But any uncomfortableness I feel is balanced by the knowledge that it gives me the ability to advocate for myself and others.'
You had messages of support from Emma Stone and Jennifer Lawrence, which must have helped.
'I found a supportive sisterhood, not just in Emma and Jen, but in the many women I've had the opportunity to come across and learn from over the past few years. It's a community of like-minded people, which has been a gift.'
Let's talk about Captain Marvel. What do you think it means for young girls and people who identify as female to see this woman not need to be saved, but to do the saving and be the strong person in the face of so much adversity?
'It's so interesting, as it's not something I thought about until I was in the cinema watching Wonder Woman. About two minutes in, I was sobbing and thought, "Why am I crying so much over this?" But it was seeing all of these warrior women who were so self-sufficient. That wasn't something I identified with growing up – my hero was Indiana Jones. To have the chance to be one example of this is powerful and exciting.'
There's a long way to go, though, don't you think?
'It's just the beginning. Captain Marvel will not be the answer to all of these things. It's about breaking it open to say, "Here's another way; here's something to look at to then continue the conversation further." For me, just the act of accepting the role and the process of getting physically strong [Larson worked out for four and a half hours every day for three months] changed me so much and made me stronger mentally. Hopefully, that will remind others, whatever journey they're on, of their inner strength.'
What do you think makes a hero?
'One of the biggest qualities is having an awareness outside of yourself, and understanding that the world doesn't revolve around your needs. I think part of who I am, and part of who she [Carol Danvers/Captain Marvel] is too, is having the theory of mind to put yourself in other people's shoes.'
You hesitated before accepting the role, which isn't surprising given you're a very private person and this film comes with a degree of notoriety…
'It's an odd one that I've had to come to terms with. There aren't many jobs where, in order to gain success – and in my case, more freedom in my creativity – I have to give up something that's equally important to me. I spend my time off with headphones on, walking around the city alone, so the idea that might become a different experience – where instead of being an observer, I'm the observed – feels terrifying.'
It's the capital 'c' celebrity thing…
'Yeah, they think I'm different, that I don't get up and have the same morning as they do or that I'm immune to flaws and don't get acne. All of those things happen to me as well, it's just harder for people to see when they're looking at things from the perspective of a red carpet or a movie that's been edited.'
That reminds me of what Marvel Studios president Kevin Feige said about you… that you were cast because of your ability to balance the character's vast powers with humanity and relatable flaws.
'I lucked out in that Captain Marvel is super-flawed; she makes mistakes and has a temper. The fact that I'm not playing this idealised version of perfection makes me feel more comfortable about stepping into the role.'
As a journalist, I'm conscious of not asking the same questions you must always come across. It bugs me that the women of the Marvel universe are asked things like, 'So, how was it getting into the suit?' I mean, why does that matter?
'They're going to walk away from the movie like, "You know what I was really excited about? She got into the suit…"' [laughs]
When did you realise the real impact of the character?
'It wasn't until I was filming a movie called Just Mercy and my co-star Jamie Foxx came up to me and was like, "That trailer is crazy!" He set up a screening room and kept bringing people in. He held four screenings of the trailer for people on set [laughs]. It was the first time I saw how excited people were and it made me understand, "This is impactful, this matters."'
The first time that I ever messaged you was about malicious criticism. How are you handling that now?
'My friends and family have been encouraging me to talk more as I have a tendency to just be like, "I can handle it on my own." Usually, I just go quiet and stay alone all day. But it's a wonderful thing to be able to be of service to one another.'
I think the way we communicate in terms of our vulnerability and other emotions is based on how we were brought up. What kind of child were you?
'I was incredibly shy, and then aged six or seven, I started bugging my mom about wanting to be an actor. She was super-confused because I was so shy. She was like, "There's no way this is possible that she wants to do this." But she got me into acting lessons, and I'm so grateful as that was the catalyst.'
I want to be awkward and talk about money. I never had it growing up. We couldn't afford cable, so we just watched Gilligan's Island, M*A*S*H and In The Heat Of The Night.
'Me too!'
Does that make you feel uncomfortable about money now?
'Yes. I wouldn't say I had a surplus [amount] of money until about two years ago. So, it's still a fresh experience for me and, because I never had it, I always felt scared of it.'
What about when it comes to buying yourself nice clothes and that kind of thing?
'I grew up getting mine at the thrift store. When I was finally in a position to go out and buy a T-shirt, I was like, "How is it $100? I could buy 50 of them at the thrift store."'
So, what do you spend your money on?
'The extra money I have is like energy, it's a currency I can use. I've realised I'll go broke for the people I love, and I love a lot of people. I'm happy to pitch in and help others fulfil their dreams, get on their feet, whatever it is. I donate to GoFundMe. I don't need that much stuff, I've had this jean jacket I'm wearing for three years. I'm good, I don't need another jean jacket.'
Shout out to jean jackets, though!
'I love them. I know for myself that material objects don't make me feel anything really. So, it gives me pleasure to be able to help others out. I'm grateful that I grew up with so little because I know for sure that I don't need anything.'
You've acted, produced and directed, and won an Oscar and you're not yet 30. I'm particularly excited that you're producing and starring in a biopic of Victoria Woodhull, the first US female presidential candidate. What other ambitions and career goals do you have for yourself?
'I have so much that I want to do. Most of my goals are trying to bring in people, who are not traditionally associated with the movie industry, to tell their stories and help facilitate that. I also want to help with a non-profit school to teach young people, folks who have just gotten out of prison, or anyone who is diverse to learn skills in different departments, so that we can better diversify the industry that I work in. And then I have personal stuff – I'm passionate about martial arts, so I'd like to spend as much time as I can getting better at that. I haven't even scratched the surface of what I can do creatively.'
Captain Marvel is in cinemas from 8 March. Keah Brown's book, The Pretty One, will be published in August by Simon & Schuster.
Celebrity news, beauty, fashion advice, and fascinating features, delivered straight to your inbox!
The leading destination for fashion, beauty, shopping and finger-on-the-pulse views on the latest issues. Marie Claire's travel content helps you delight in discovering new destinations around the globe, offering a unique – and sometimes unchartered – travel experience. From new hotel openings to the destinations tipped to take over our travel calendars, this iconic name has it covered.