Women In Tech: The Names To Know In 2016
From robot designing to advising the government, these women are redefining tech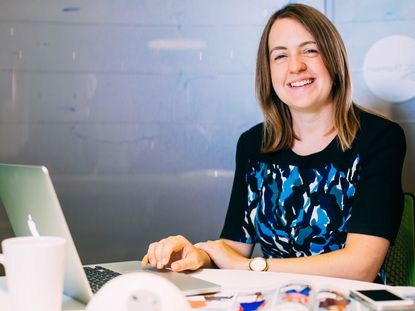 From robot designing to advising the government, these women are redefining tech
There's a lot of exciting stuff going on with regards to women in the STEM careers (science, tech, engineering and maths) but unfortunately jobs within these areas are still completely dominated by men and research shows that many of us feel we lack the necessary skills to break into these professions. This is in spite of the numerous perks on offer, high salaries, lots of career prospects and great job security, to name a few.
So in order to readdress some well-worn stereotypes, we've spoken to some women who are leading the change. Women who are breaking boundaries, sharing career tips and seriously redefining the industry in the process.
Here's a low-down of seven extremely inspiring women to watch in 2016...
The Computer Scientist: Jenny Griffiths, London
What do you do? 'I'm a computer scientist and founder of SNAP Fashion, a visual search engine for fashion. I also work as a role model for EDF Energy's Pretty Curious campaign, which encourages teen girls to pursue science-based subjects at school and beyond.'
How did you start your own business? 'I came up with the idea for the app and website whilst studying for my Masters in Computer Science at Bristol University and initially it was for entirely selfish reasons! I wanted to know where people bought their clothes from. I discussed the idea with friends who all said they would download and use the app so it was then I knew that I was onto something that would fill a gap in the market.
Now it's great to see fashion embrace technology and next year we're expanding into America and partnering with more magazines and more shops, as well as working on bringing Snap Fashion to the UK high streets as well as online.' Why are you encouraging young girls to get into tech? 'The Pretty Curious campaign revealed that one third of young girls don't believe they are clever enough to become a scientist which in my eyes is just too high. As part of the campaign, I'm working with other inspirational women with science backgrounds to speak to young girls in the UK about the opportunities that studying these subjects present. Technology and science are going to take us places we never could have imagined in future and it's so important that both men and women have an influence over its development and how it affects our daily lives to bring a fresh perspective to new innovations.'
The Media Mogul: Kathryn Finney, New York
In what industries do you work? 'I am an author, blogger, mentor and founder of digitalundivided (DID), a social enterprise that finds, supports, and trains urban tech entrepreneurs. We're a company that has had a huge impact on the tech world in the US - 40% of all black women who have raised Series A funding have come from our network.
How has the path to success been for you? 'There's been many highlights - receiving the Champion of Change Award from the White House, receiving my book deal, being one of the first black women to sell her own media company back in 2013. However, in the mid-2000s, I participated in one of the first accelerator programs in New York, where I was the only black person and one of four women. I was never invited to pitch my idea and once, a famous investor told me (in front of a room full of colleagues) that my business model for a beauty box service 'was excellent' but he wouldn't invest because he 'didn't do black women'. While I had a snappy comeback ('we can all agree that the only colour that matters is green'), it was truly humiliating. It also made me wonder how many other diverse women founders had been rejected and actively discouraged from tech entrepreneurship.
Do you think tech in the US will ever become more diverse? 'To be honest, I'm not sure if there is going to be any many change from the industry itself. I think the major change is that women are going to be building our own systems with our own source of funding. In the US, there's a 'network effect' which is the result of not being a part of the same network as the boys: we're not invited to the dinners, we didn't go to the same schools and if we did, we weren't given the same career guidance or the same paths to follow.
As a result this makes it nearly impossible for women of color to gain entrance into the closed system of tech. I call it a closed system because very few new ideas actually enter the space and the ideas that are currently circulating are from those already in the system/network. Now, I've made it a kind of life mission to make sure no woman of colour has to go through what I had, or at the very least, offer these women support when it does happen.'
The MD: Trudy Norris-Grey, Wokingham
What area do you work in? 'I am MD at Microsoft for Central & Eastern Europe, Public Sector and chairperson of WISE, a campaign to promote women in science, technology and engineering.
Why would you recommend a career in tech for other women? 'Well, I've been in the tech industry for 30 years and it's been fabulous. I've had a some rewarding, fulfilling jobs earning a good wage and travelled a lot. I'd like other girls and women to at least consider the possibility of going into this area because the benefits are fabulous, and of course diversity will benefit our families, communities and it could help our economy as we could sell these skills on a global stage. There have been a lot of hurdles and a fair amount of sexism but overall I've been really lucky and I'd like to help other women have the same opportunities as me. What is WISE? 'An organisation that helps promote a campaign to promote women in science, technology and engineering. At the moment we're lobbying government to get 1 in 3 women in technology and science jobs. We've also been encouraging girls in the UK to study science up to GCSE so now an equal number of girls and boys now study science and maths up to 16 as well as running a 'people like me' program in schools, where we run activities in classrooms with teachers to demonstrate to girls how their attributes can be put to good use. Not only would we fill the jobs but girls would be fulfilling careers and earning a good living and helping the economy.'
The Government Advisor: Alex Depledge, London
What does your career entail now? I've founded Hassle.com which won the 2015 Europa's 'Best Sharing Economy' Startup and was #6 on the 'Startup 100' list, and I'm also the Chair of Coadec (the coalition for a digital economy) and board member for The Sharing Economy UK. She was also recently on BBC THREE's 'Girls Can Code' as one of the mentors helping introduce the girls to the world of tech and start-up life.
You've advised government on which start-ups need investment, how do you know what makes a good start-up? Always the people. The person/team needs to have grit so I focus on when they faced a challenge and what they did about it. I'm looking for people that don't give up. Secondary to that is what approach they are using to execute their idea - it needs to be clever. People usually think the most important thing is the idea, it's not. It's all about how you execute it.
The UK was recently named as the best place in Europe to start a business, do you think the climate is right for women looking to become entrepreneurs here? Absolutely. Barriers to entry are lower now than ever before - start-up costs are small since the development of cloud computing and free online content. You don't need servers in your office anymore and anyone can teach themselves to code (my co-founder Jules did, from a book). It sounds dramatic, but I honestly feel like we are in the middle of a 'revolution' a lot like the Industrial Revolution - digital is transforming the way we work, the way we live and the way we socialise. And with any change there is pain and resistance, but there is also a massive opportunity. Technology in so many ways is incredibly democratic - it is a leveller that women should embrace.
The Digital Trainer: Emma Cerrone, London
What do you do? 'I recently collected the award for Entrepreneurship and Innovation for my company Freeformers at the UK IT Industry Awards. My company is a digital transformation company that trains big companies - including the likes of Barclays, Vodafone and Sky - in the positives digital technology can bring to a business. This can include insights into coding, cyber security and social media.
Why have you decided to use company profits to train young women in digital skills? 'Freeformers is founded on profit and purpose and we have a mission with our one_for1 social impact model to close the digital skills gaps for both sexes and to try and increase diversity in the world of digital and tech. For us it was a no brainer. It creates real value for our clients, creates a pipeline of diverse talent and drives our culture. I am passionate about making sure women - of all ages - want to get involved in the fast growing digital economy. This doesn't have to mean working for a tech company or being an engineer as digital is now part of every organisation. I want women to grow in confidence, keep learning and go for jobs that will make a difference.
Could you share your tips for women looking to start their own company in the tech sector? '1. Believe in yourself. If you don't, why should anyone else. Don't doubt yourself and go for it. 2. Surround yourself with energetic and creative people you can trust. You're going to need them and they will be sources of inspiration. 3. Be focused. It is so easy in the tech space to be set off course with a new idea every week or worrying that competitors are moving faster. Be brilliant at what you do, take out all the barriers slowing you down and you'll see results.' 4. It is crucial for women to pick people up on casual or outright sexism when it happens. Call people out in a constructive way 5. Don't let anyone tell you that you can't do it.'
The Robot Creator: Samantha Payne, Bristol
What do you do? 'I'm the co-founder of Open Bionics, a robotics startup which creates low-cost bionic hands for amputees of all ages. We've won lots of awards including the James Dyson Award for Innovative Engineering 2015 Robotics Business Review's 'top 50 most influential robotics companies 2015. What's it like pitching to investors? Could you give us any tips? 'At first I found pitching to be a real challenge because I had imposter syndrome. I felt like I wasn't good enough but it's just nerves. I have noticed that women seem to suffer from self-doubt a little more than men in the tech industry. Here are my presenting tips: 1. When you walk on stage don't speak right away. Take a moment to take a big breath and smile. This makes a huge difference because it gives you time to get comfortable on the stage. 2. If you find yourself racing ahead during your talk, make an effort to pause and breathe. It'll slow you down and make the experience more enjoyable for the audience. 3. Find the person nodding along! Usually in an audience there will be at least one person who has been through what you're going through and they'll always smile and nod along to your talk. Do you think we need more women working in robotics and technology? 'The sad fact is that women end up leaving the tech industry because of unfair pay, sexism and discrimination. It still happens and this puts women off from studying engineering, robotics, etc, and entering the tech industry which is a huge shame because the industry needs more women. It needs the female perspective. If there were more women in tech and more women in boardrooms I firmly believe better decisions would be made, we'd have nicer ads, and products would improve. It's diversity of minds that make the most well-thought-out idea.'
The Coder: Alice Bentinck
What do you do and how have you got there? 'After teaching myself to code, I founded a company with my friend Matt called Entrepreneur First which supports technical talent for those who want to build their own tech startup. We mainly take talented individuals before they have a team or an idea, and spend six months with them to get them to the point where they can take on serious seed funding. We've built 40 companies over the last three years. I've also founded Code First: Girls a free, face-to-face company to help more women get into tech.
Do you have any major projects lined up for 2016? 'We run two programmes a year, one in March and one in September and take up to 100 technologists on each of them to help them create find co-founders and develop a company from scratch. Our main aim for next year is to help these technologists build defensible tech companies where their USP is their technology. The most exciting part of the job is to see what cohort members will team up together to build. We've had everything from build-it-yourself laptops to nanosatellites.
What have been your notable career highlights? 'I was recently selected as specialist by David Cameron for the 2014 Northern Future Forum held in Helsinki to speak on how to encourage the development and creation of new and innovative businesses.This year we also raised more than £8.5 million fund to help create 200 startups over the next three years, which will make us the largest producer of startups in Europe.'
Who inspires you the most? Tweet us @marieclaireuk
Celebrity news, beauty, fashion advice, and fascinating features, delivered straight to your inbox!
The leading destination for fashion, beauty, shopping and finger-on-the-pulse views on the latest issues. Marie Claire's travel content helps you delight in discovering new destinations around the globe, offering a unique – and sometimes unchartered – travel experience. From new hotel openings to the destinations tipped to take over our travel calendars, this iconic name has it covered.