7 Apps That Will Help You Track Your Life
From your calorie intake to your heart rate, you can now measure every part of your life with the help of a few very innovative apps.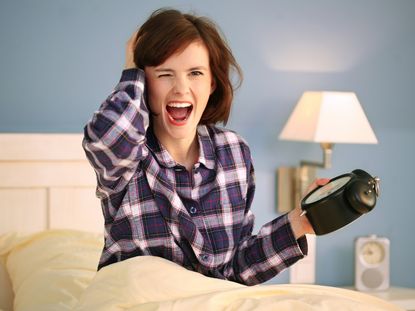 (Image credit: Rex Features)
From your calorie intake to your heart rate, you can now measure every part of your life with the help of a few very innovative apps.
Keeping a record of your daily activities might seem self-important, or like just another chore, but it can help to regulate and improve the important things in life, namely health, fitness and happiness.
1. Calorie Counter +
If there's anything that us ladies have become quite adept to, it's the capacity for counting calories. You don't need to be on a diet to understand the importance of totting up your daily cals, but Calorie Counter + has a seriously sophisticated way of doing it for you. Designed exclusively for UK brands, this app scans food packaging barcodes on anything you consume and the individual calories are quantified by day and meal, against any exercise.
2. Instant Heart Rate
The Instant Heart Rate monitor turns your phone into a unique training device using the phone's features. Hover the tip of your index finger over the inbuilt camera on your iPhone and it will detect your pulse, and to prove it's working it will beep along with every beat. Whether you're training for the London Marathon or just tracking your movements on the way to work, a mobile heart rate device will help with fat burning and help coordinate a work out regime.
3. Sleep Cycle
Now one of the most renowned sleep apps on the market, Sleep Cycle is an intelligent alarm clock for the digital age that counts up your deep, disturbed and light sleep cycles at different stages of the night. By recording your sleep patterns (alongside heart rate and pre-slumber notes) the app chooses the best wake-up time within a 30-minute window and the appropriate alarm melody to give you your most restful night's sleep. Glorious.
4. Walkmeter GPS Pedometer
Yes, you can wear a kooky pedometer watch. And yes, you can attach a brightly-coloured clip-on to your work trousers every day. But wouldn't it be so much more convenient if your phone measured your steps from the discretion of your pocket? Advanced enough to count calories, quantify pace and calculate distance, the Walkmeter GPS Pedometer app will even coordinate your route for you. Perfect.
5. Happiness Mood Tracking Journal
Like any journal, the Happiness Mood Tracking Journal app gives you a certain sense of satisfaction just for recaping every day. The app starts slowly, measuring your moods after various daily scenarios and gains momentum by teaching you what truly makes you happy. Not only are you tracking your happiness, but you're improving it, and you can't say fairer than that.
6. Fitbit
Just about everything in our lives is sharable - from your first morning thought to your seriously delectable desert. So if you're going to be quantifying your life, it's only fair that you do it in the company of friends. The Fitbit app is an all-in-one that will track your daily progress with calorie intake, sleep hours, activity and water consumption and allow you to compare it with pals. Now that's one way to keep you on the straight and narrow.
7. Waterlogged
You're not drinking enough water. You're never drinking enough water but it's actually pretty hard to keep tabs on. Waterlogged will send reminders from your phone to ensure that you're filling up on your daily H2O quota, and all you need to do is take pictures of your glasses throughout the day to measure how much you are (and are not) drinking. Busted.
Celebrity news, beauty, fashion advice, and fascinating features, delivered straight to your inbox!