The Fabulousness Of Grace Kelly Explained In 13 Amazing Snaps
Grace Kelly reigned for only five years as Hollywood royalty before disappearing off to Monaco to become a real life Princess but, despite her short-lived career, Grace remains one of the most iconic film stars of all time. Here's why she was so fabulous...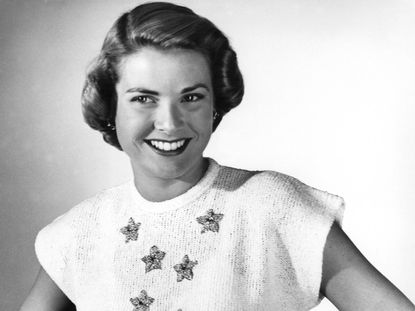 Grace Kelly reigned for only five years as Hollywood royalty before disappearing off to Monaco to become a real life Princess but, despite her short-lived career, Grace remains one of the most iconic film stars of all time. Here's why she was so fabulous...
1. Her star quality was apparent from an early age. Here she is as a fresh-faced and flawless teenager in 1947. Despite coming from a wealthy Philadelphia family, Grace helped fund her studies at drama school in Manhattan through modelling. After graduating, she started out in TV, but was soon spotted by MGM studio director John Ford, who saw her in a 1950 screen test and was instantly struck by her 'breeding, quality and class.'
2. She was the ultimate Hitchcock blonde. After a break-out performance opposite Clark Gable in Mogambo, Grace was spotted by the acclaimed director Alfred Hitchcock, who took her under his wing and cast her in the 1954 thriller Dial M For Murder, which became a box office sensation and thrust Grace even further into the spotlight. She went on to star in two more of Hitchcock's films: Rear Window and To Catch A Thief. The director was a huge admirer of Grace's cool brand of beauty and poise, dubbing her 'a snow-covered volcano'.
3. She was unquestionably talented. Here she is, caught in a moment of pure joy, after winning the Best Actress Oscar in 1955. Grace was desperate to take on the lead role in The Country Girl, and even threatened to leave her studio, MGM, if they wouldn't let her do it. Her passion for the part shone through, and her performance proved that she was far more than just a pretty face. Most people believed that Judy Garland (nominated for her role in A Star Is Born) would win the accolade, but Grace had the last laugh when she was named the surprise winner.
4. Her sense of style was flawless. Here she is in a publicity shot for Rear Window in 1954. Her costumes in the film helped accentuate her effortless elegance: Grace could work a pearl necklace, full 50s skirt and cinched-in waist like no other, and was always the epitome of ladylike chic. No wonder Hitchcock was said to be infatuated with her. Grace's co-star James Stewart once said: 'How could Hitch not help but fall in love with Grace? Everyone loved her'.
5. She was surprisingly shy, despite being a global star. Here she is in 1954 in the back of a taxi with the costume designer Edith Head. Despite what you might think looking at that extravagant floral hat, Grace didn't possess the innate inner confidence that you would expect from someone so talented and beautiful. Edith, who knew her well, once said: 'She was quite shy. Since she was so beautiful, men were always flirting with her, and she wasn't especially comfortable with such superficiality.'
6. She was a family girl at heart. Here she is with her mother Margaret in the 1950s. Grace was incredibly grateful that her wealthy and respectable parents supported her ambitions to be an actress, while her peers went off to college or got married. 'My parents, despite their serious attitude toward life in general, and that of their children in particular, were very broadminded people. There was no such thing as a bad profession for them. As I was their daughter, they knew that, whatever profession I chose, I would do it well. That was enough for them. There was always trust among the Kellys.'
7. She was a natural beauty, even in her most candid moments. Here she is without a scrap of make-up on, snacking on celery and studying the script for The Swan in 1955. Little did she know, as she was learning her lines to play the part of a Princess in the film, that she would soon be taking on that royal role in real life too...
8. Her co-stars loved her. Here she is looking cool as anything in the baking sun of the French Riviera on the set of To Catch A Thief in 1955. Kudos to anyone who can work a turban, we say. Grace famously bonded with her co-star Cary Grant during the filming. The actor always named her as his favourite leading lady, saying: 'With all due respect to dear Ingrid Bergman, I much preferred Grace. She had serenity.'
9. She didn't take herself too seriously. Despite her incredible beauty, Grace was witty and prone to self-deprecation. 'When Ava Gardner gets in a taxi, the driver knows at once she's Ava Gardner. It's the same for Lana Turner or Elizabeth Taylor, but not for me. I'm never Grace Kelly. I'm always someone who looks like Grace Kelly,' she once quipped. Cary Grant summed up her laid-back attitude when he said: 'She never distanced herself from others, and she was enormously friendly to everyone – no stuffy attitude, no star complex.'
10. She was without a doubt the most beautiful bride of the 20th century. Here she is looking effortlessly regal on her wedding day to Prince Rainier III of Monaco in 1956. Just check out the intricate design on that gorgeous lace veil. Her dress is still considered one of the most beautiful in history, and even served as the inspiration for Kate Middleton's 2011 Sarah Burton for Alexander McQueen gown. It was created by MGM costume designer Helen Rose, who had previously worked with Grace on two of her movies, and comprised 25 yards of silk taffeta and 100 yards of silk net. The fitted bodice was made of Brussels lace. Sigh... complete perfection.
11. She was a normal, hands-on mother - despite being a Princess. Here she is, looking just like any other young - but incredibly glamorous - mother, at the pool with her son, Prince Albert, in 1960. She was fiercely protective of her children and did all in her power to keep them safe from prying eyes, saying: 'The sometimes inquisitive and unhealthy interest that the media show in us is often the source of childish anxieties that are hard to allay. I do everything I can to protect my children from them.'
12. She was, and remains, the ultimate style icon. Grace was endlessly chic on all occasions, even after just getting off a plane. Here she is with Prince Rainier at Heathrow airport in 1968. If only we could look this chic after a flight - no wonder Hermes named a bag after her. She took her style status seriously, saying: 'I believe that it is right to honour all those who create beautiful things and give satisfaction to those who see me wearing them'.
13. She was still looking fabulous in her fifties. Here she is looking perfectly preserved in 1982, the year of her death. She died that September, after suffering a stroke while driving and crashing her car. Her daughter, Princess Stéphanie, was in the passenger seat, but luckily survived the accident. This was a tragic end for Grace, who had otherwise lived a charmed life. She will always be remembered as one of Hollywood's most glittering stars, who got to live the fairytale that all little girls dream of.
Celebrity news, beauty, fashion advice, and fascinating features, delivered straight to your inbox!