Nicole Kidman reveals her favourite moment from Meghan and Harry's Australia tour
At the launch of OMEGA'S Constellation Manhattan in Shanghai, The Big Little Lies star told us she's been following the royal couple's visit to her home country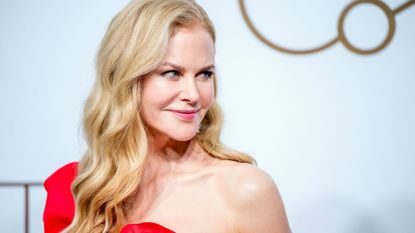 At the launch of OMEGA'S Constellation Manhattan in Shanghai, The Big Little Lies star told us she's been following the royal couple's visit to her home country
Now nine days into their royal tour of Australia, Harry and Meghan are proving to be a major hit Down Under - including with the country's most high profile expat Nicole Kidman.
At the international launch of watch brand OMEGA's new Constellation Manhattan collection in China, we asked the Big Little Lies star if she had any tour advice for Meghan and Harry, who are set to fly from Tonga to Sydney tomorrow.
'Oh, gosh no, I think they've already [won the Australian people over]' she replied, 'I don't think they need any tips, I think they're incredibly endearing anyway. What a gorgeous couple, right?'
Kidman also revealed her own favourite moment of the tour so far. 'I loved her holding the umbrella while he was talking. It was so sweet, so loving.'
Kidman was joined in Shanghai on Tuesday night by her fellow OMEGA ambassadors Cindy Crawford, Liu Shishi and Alessandra Ambrosio at a lavish launch party to celebrate the watch brand's latest collection, which will be available to buy from January.
The four stars will also appear together in a new campaign shot by British photographer Damon Baker.
At the party, 250 guests were led into a cavernous white and gold venue for an evening that featured live music, aerial acrobatics and a preview of the new OMEGA campaign presented by its four stars and the brand's CEO Raynald Aeschlimann.
Cindy Crawford is the longest-running OMEGA ambassador, having shot her first campaign with the brand over three decades ago in 1995. More recently, her daughter Kaia Gerber and son Presley have become OMEGA ambassadors too.
Speaking ahead of the party, Cindy joked that Kaia - who made her runway debut earlier this year for Calvin Klein - has started stealing her old clothes from the Nineties.
'I have an old Azzedine Alaïa leather trench coat and she wasn't like, "Oh Mom, I'm borrowing your Alaïa," it was like, "I'm borrowing The Alaïa". I'm like, "No, it's my Alaïa, you are allowed to borrow it," and now, "Just have it, it looks better on you than it does on me." But it's fun for her to go through some of my old stuff - if she wants it I'm like "oh, I must have been cool!"'
Crawford also opened up about the 'Mean Girls' moment she experienced as a teenager that spurred her career.
'When I was in high school [before I started modelling] I lived in a small town. I got a call from one of the clothing stores asking if I would come in for a meeting because they were interested in me modelling for the store. I had never really thought about modelling before, but I put my hair in hot curlers, I borrowed my mum's mascara and I went into the store and I was like, "I'm here for the modelling job."'
But the puzzled store owners told Crawford that they had never called. 'I went outside and two mean girls from my high school were standing down the street' she said, 'they were watching the whole thing and they were laughing.'
But for Crawford - who went on to become one of the most successful supermodels in history - revenge was pretty sweet. 'Cut to ten years later, it's my high school reunion' she said, 'I was on the cover of Vogue, I had my MTV show, I walked into [the reunion] and I was like, "Hi girls."'
Celebrity news, beauty, fashion advice, and fascinating features, delivered straight to your inbox!