Mollie's Feel-Good Feed: My favourite scented candle and new Hollywood obsession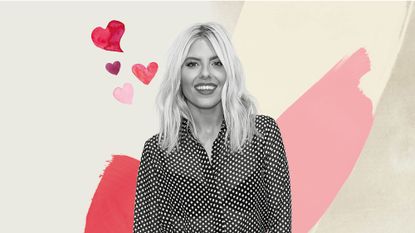 (Image credit: Getty Images)
Welcome to Mollie's Feel-Good Feed, a place where each week Mollie King shares her round-up of the things bringing her joy in these strange and uncertain times. Check back each week for uplifting music, self care tips and, hopefully, a smile being put on your face.
Here we go! Another week of summer and a few more suggestions of feel-good entertainment to add some extra sunshine to your July.
If like me you're feeling a bit more human having popped out to get your hair done, or because you've ventured out to a shop or pub, then you're probably ready to slip the comfies back on and enjoy a bit more sofa time.
Maybe you've ticked off Queer Eye and The Last Dance so it's time to pour yourself a delicious glass of wine or make a cup of tea, put your feet up and sample these next treats...
Singles
I'm so excited to have James Bay back! The wait was most definitely worth it. Chew On My Heart is his first new single since releasing his album Electric Light in 2018, and I'm delighted to say it's reminiscent of his earlier hits Hold Back the River and Let It Go (no, not that one!).
In equally big news, he's ditched his trademark hat and is now embracing his long flowing locks. It's great to see a different look on him – although let's be honest, if we could wear a fedora as well as James does, we wouldn't take it off either!
The next artist I've been a fan of since she released Lush Life back in 2015, and she's consistently provided us with big pop smashes – it's Zara Larsson. Her recent release Love Me Land is one to add to her ever-growing list of successes; with a dramatic start and hypnotic bass line, it's one you'll love singing along to on any feel-good playlist.
Co-written by one of the most successful pop writers of our time, Julia Michaels, the collaboration works perfectly and is definitely a tune pop fans will enjoy.
TV shows
Have you ever wondered who styles the A-List for red carpet appearances, TV moments and sometimes even for dinners out? Well then, scroll through Netflix until you reach Styling Hollywood. This feel-good series follows designers Jason Bolden and Adair Curtis as they dress celebrities for some of their most iconic fashion moments.
Featuring everything from the ins and outs of fashion houses flying their dresses in from Paris, to actors squeezing fittings into their busy schedules, this is a behind-the-scenes look at styling one of the most glamorous cities in the world. And if that isn't enough to entice you, they also style their clients' homes too. We can only dream!
Fitness
By now you've probably heard me mention that I'm a Peloton addict. You may have seen their slick adverts on TV with the gorgeous instructors cheering people on while they work out from home – but if you haven't, the app allows you to stream a range of fitness classes wherever you are.
This week they launched 'Pelothon', a campaign that encourages people to work out and raise money to support hunger relief efforts at the same time. It's been a good reminder to myself to make time to exercise, and I've used this as an opportunity to take up running again.
I've never been a great runner, but knowing it's helping raise money for this cause has helped to put an extra spring in my step. Running is something I've slowly built up over time and I can't recommend it enough. If you've got a pair of trainers, give it a go. You'll feel like you're a child again, running free without a care in the world!
Self care
Every now and then I think we all need to grant ourselves permission to recharge our batteries and have a little wind-down time. I myself am in the middle of remodelling my flat, so it's been a busy and exciting few weeks, but over the last few days I've made a conscious decision to give myself more time to relax and chill.
I've recently fallen in love with Bolt and Star candles; for me, lighting a candle while reading a book or having a long bath is pure heaven, especially when it smells of Sandalwood and Bergamot (my favourite scent). I can't recommend these candles highly enough, so pop some relaxing music on, run the bath and light your favourite. Whether you prefer Peppermint, Lavender and Orange or Neroli, Lemon and Ginger, there really is one for everyone!
Thanks so much for reading this week's Mollie's Feel-Good Feed – check back on Marie Claire every Friday for more of my feel-good recommendations. Stay safe, take care and enjoy!
Celebrity news, beauty, fashion advice, and fascinating features, delivered straight to your inbox!
Mollie King rose to fame as one-fifth of the multi-platinum selling girl band, The Saturdays. The last few years have seen her become a Radio 1 DJ, present across flagship TV shows and a campaign in Parliament.
During her time in The Saturdays, the group sold over five million records worldwide, achieving 13 Top 10 singles and five Top 10 albums. The band also embarked on four nationwide tours and had three primetime TV series, including Chasing the Saturdays for E! which aired in over 40 countries.
In 2018, Mollie turned her hand to presenting and after guest presenting for several weeks on Matt Edmondson's Radio 1 show, she was offered a permanent role at the station. The duo began hosting the Matt & Mollie Weekend Breakfast show and 2021 moved their new afternoon slot. Mollie also presents her own Friday morning show Best New Pop, sharing music from her most loved genre. After only six months into her role at Radio 1, Mollie won the silver award for 'Best New Presenter' at the 2018 ARIA Radio Academy Awards.
In addition to Radio, Mollie has also guest presented This Morning several times, including a month-long stint in the summer of 2018. She's covered the entertainment slot on Lorraine, and guest presented on Blue Peter. In 2019, Mollie hosted The Greatest Dancer podcast for the BBC. She also presented the BBC Radio 1 Teen Awards, alongside Greg James and Maya Jama, which aired on BBC2. Mollie also took part in the 15th series of Strictly Come Dancing in 2017, making it all the way to the semi-finals.
Away from her TV and Radio work Mollie writes a weekly column for Marie Claire magazine, 'Mollie's Feel Good Feed' and has worked with numerous brands including Estée Lauder, L'Oreal, Amazon, GHD and Aspinal of London.
Mollie is a proud ambassador for the Dyslexia Association, a learning disorder she was diagnosed with as a child. Mollie is very passionate about campaigning for early diagnostic tests in schools, as well as funding to support children through education with Dyslexia and spoke about this in Parliament in 2019.
Mollie is also a Born Free anti-captivity ambassador, has worked closely with the charity Mothers2Mothers and traveled to Ghana in 2014 with REDD charity to help raise awareness and funds for HIV.