Neighbours might be leaving British TV screens for good
And people are already protesting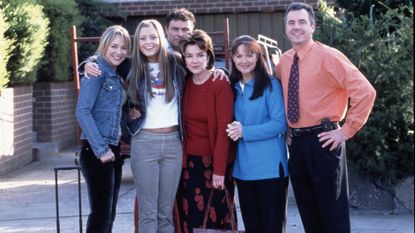 (Image credit: Ltd/REX/Shutterstock)
And people are already protesting
Since making its way across the world back in 1986, Neighbours pretty much became as much of a British institution as an Australian one. Tea time just wasn't the same without it.
The Australian soap used to air on BBC until it moved over to Channel 5 back in 2008 and now. Now, 31 years on, it seems like Neighbours' future on British TV could be in jeopardy after an apparent breakdown between Channel 5's deal with the show.
People are taking this threat extremely seriously and have even started a protest campaign, obviously, so only time will tell the fate of the popular soap.
It did, after all, kickstart the career of loads of A-listers. (Oh, hi Kylie.)
Back in Kylie Minogue's Neighbours days, where she played Charlene Robinson alongside Jason Donovan's Scott Robinson, the iconic popstar was just earning £150 per episode. And yeah, this is a huge difference considering that she's now worth around £55 million.
And she wasn't the only one to hit the big time as a Neighbours alumni.
Margot Robbie, who recently got married, and played Donna Freedman from 2008 - 2011, is now worth £8 million.
Natalie Imbruglia, who starred as Beth Brennan from 1992 - 1994 is worth £11 million and Russell Crowe £52 million.
And, lest you forget other Hollywood A-listers Chris Hemsworth, who appeared in Neighbours in 2002 before becoming a resident character on Home and Away from 2004 to 2007, and yes, he's now worth a whopping £27 million.
And remember Delta Goodrem who played Nina Tucker in 2002? She's now worth £1.2 million as one of the current coaches on the Australian version of The Voice.
And, Holly Candy, who played Flick Scully, is now worth £1.1 billion, thanks to her joint worth with her husband, British property developer, Nick Candy.
Considering that 21 million people used to tune into the Australian soap back in 1990 and now, it only attracts around three million - it's uncertain whether or not Neighbours is here to stay our side of the pond, sadly.
Now, we need to figure out a way to get 'that's when good neighbours become good friends' out of our head...
Celebrity news, beauty, fashion advice, and fascinating features, delivered straight to your inbox!