Can't Get You Out Of My Head - Kylie on 40 years of reinvention
Her career has spanned four decades in music and TV, with endless reinventions. But what makes Kylie Minogue special is her ability to bounce back from hardships and heartbreak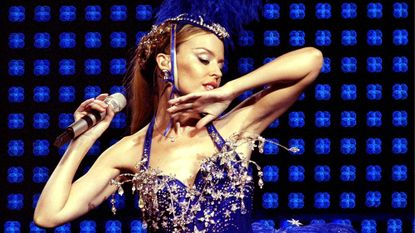 Her career has spanned four decades in music and TV, with endless reinventions. But what makes Kylie Minogue special is her ability to bounce back from hardships and heartbreak
Words by Michelle Davies
It was the summer of 1978, and in a suburb of Melbourne, Australia, Carol Minogue was wrestling with a dilemma. Her seven-year-old daughter Dannii was a stage-school attendee and desperate to go to an audition at a casting agency that was looking for child actors. But if she took her, there was nobody to look after her other kids, Kylie, ten, and Brendan, eight. 'Eventually, I wore her down and she agreed to take me on the condition that Brendan and Kylie came along too, just to make it fair,' Dannii later revealed. 'Then Kylie got cast [instead].' The idea of the eldest Minogue sister becoming a star stunned everyone – until that point, her only interest in entertainment was learning to play the piano. But her breakthrough role as a Dutch orphan in The Sullivans, a drama series set in World War II, put her on the road to a 40-year career and has seen her amass over 80 million record sales worldwide. Now 50, and second only to Madonna in terms of image reinvention, Minogue is set to spend 2019 touring on the back of her country and western-inspired album Golden – her sixth album to hit number one. 'I had no idea music would become my life, I thought acting would be my path,' she said.
Born Kylie Ann Minogue on 28 May 1968 in Melbourne, her mother Carol was a former stage dancer and her father, Ron, an accountant. After her eight-episode run on The Sullivans, Minogue's next role was on a show called Skyways, where a certain Jason Donovan was cast as her older brother. Her first recollection of him was that he was 'really chubby with a bowl haircut', but the pair would later go on to become both on- and off-screen lovers.
In April 1986, Minogue, then 18, joined the popular daytime soap Neighbours as mechanic Charlene Mitchell. Donovan was already on the show, as Scott Robinson, and it wasn't long before the producers decided to exploit their winsome appeal by making their characters a couple. They then began dating in real life, but played an effective 'are they, aren't they' game with fans and the press. The fascination over their relationship lead to a 20 million UK audience on 8 November 1988 for the episode in which Scott and Charlene married. Off camera, though, their relationship was floundering as Minogue's music career took off.
A year previously, she'd signed a record deal in Australia after music executives spotted her singing at a benefit concert, and her version of the 60s hit The Locomotion then spent seven weeks at the top of the Australian charts. It caught the attention of Brit record producers Stock Aitken Waterman (SAW), who flew Minogue to London to discuss working with her – but then forgot she was coming and wrote I Should Be So Lucky while she waited in reception before their meeting. 'We had to get the song together in about 40 minutes,' admitted Mike Stock. It was an international hit, selling an estimated 695,000 copies in the UK alone. But Donovan was struggling with Minogue's success, despite also having signed to SAW. 'It was a jealousy thing,' he later said. 'I could see her slipping away.'
In 1989, then 21, she met INXS singer Michael Hutchence and ended her romance with Donovan. 'It was bad enough that she'd run off with anybody, but she happened to run into the arms of the greatest rock god of the period, the very guy who I secretly wanted to be,' Donovan admitted. 'I took a long time to recover from it.'
'I had no idea music would become my life, I thought acting would be my path'
Much was made in the press of Minogue's transformation while she was with Hutchence: gone was the ingénue next door and in her place was a pixie-cropped siren. 'Let's just say my eyes were open to the world,' she said, crediting him for introducing her to 'lots of firsts'. 'It was a great love.' The relationship confounded public expectations of a young innocent Minogue and triggered a continuing fascination with her love life. When Hutchence left her for model Helena Christensen in 1991, she then had a fling with the equally rakish Lenny Kravitz. Her music became more rebellious, too, with her third album Rhythm Of Love in 1990 spawning hits like Better The Devil You Know, which was adopted by the gay community as an anthem and turned her into its icon. In 1993, she parted ways with SAW and signed to indie label Deconstruction to release her fifth album. Tackling themes of sex and infidelity, the Barbarella-esque video for Put Yourself In My Place caused uproar, and her sales didn't match previous highs.
It was in the late 90s that she met the man who would play a pivotal role in reviving her pop career. William Baker was an assistant at Vivienne Westwood's store in London and a huge Minogue fan. He contacted her label asking if she had a stylist. The singer then turned up unannounced at the store to talk to him. Baker made his mark sourcing the gold hot pants she wore in the video for her comeback single Spinning Around in 2000 – her first UK number one in a decade. Contrary to the oft-quoted story, however, he didn't pay 50p for them in an Oxfam shop. 'She bought them years ago from a market stall, and I unearthed them from the bottom of her drawer when we were scrambling through the wardrobe looking for something,' he revealed.
A year later, Minogue, then 33, continued her career revival with the album Fever, which featured the track Can't Get You Out Of My Head, her most successful single to date, which earned her a BRIT award. However, once again her career was at odds with her private life. A three-year relationship with British model-turned-photographer James Gooding imploded in early 2003 when his infidelity was exposed. He then sold his story to a tabloid newspaper and she described splitting as 'difficult and emotional'. She wasn't single for long, though, meeting French actor Olivier Martinez at the Grammys that February. Speculation grew that he'd propose, but Minogue often hinted marriage wasn't for her. 'Who knows if that's part of my story. But maybe I'm just a little bit unconventional,' she said. 'I never had it as a goal.'
Then, two years into their relationship, the singer's gilded life turned a desperately sad corner. On 17 May 2005, she was diagnosed with breast cancer and underwent a partial mastectomy. 'Oli was there all the time, helping with the practical stuff and being protective,' she said. The treatment all but destroyed her chances of having children naturally, something she only discussed for the first time last year when she revealed she'd undergone a medical menopause after her oestrogen levels were suppressed to fight the cancer. 'Of course I wonder what [having children] would be like, but your destiny is your destiny, ' she said.
'Who knows if marriage is part of my story'
In 2007, she returned to the spotlight with a new album, X, and also released a documentary called White Diamond: A Personal Portrait Of Kylie Minogue, shot behind the scenes on her Showgirl: The Homecoming Tour. It was a welcome return to being in front of the camera. She'd never turned her back on acting completely, though – she starred as The Green Fairy in 2001's Moulin Rouge!, and appeared on various TV shows, including Australian cult comedy series, Kath & Kim. Yet music was where her heart lay, and in 2012 she undertook a 12-month celebration of her quarter-century in the music industry, named K25. But while her career was thriving, the effort of maintaining it was putting pressure on her personal life. Since 2008, she'd been in a relationship with Spanish model Andreas Velencoso, ten years her junior, and in 2012 had described him as 'the one'. But it ended just 12 months later, apparently due to work commitments driving them apart, leaving her 'devastated'. In 2016, she became a judge on The Voice, and stunned everyone by accepting a whirlwind proposal from 29-year-old British actor Joshua Sasse. Their highly publicised split in February 2017 left her 'broken' and she went to Thailand with friends to recover. 'I just wanted to stop. I knew I needed to heal,' she said. 'My physical system was compromised. I think it's called a nervous breakdown.'
Her recovery sparked another change of musical direction and image when she flew to Nashville, birthplace of country music, to record her album Golden. 'It was, in many ways, a great escape,' she said. 'I was quite fragile when I started work on it, but being able to express myself in the studio made quick work of regaining my sense of self.'
Today, Minogue is continuing to celebrate her musical milestones, marking the 30th anniversary of her and Donovan's duet, Especially For You, in November last year. She also reunited with another Neighbours co-star, Guy Pearce, to film the Australian comedy Swinging Safari, in which she played a housewife. She has found love with Welsh-born GQ magazine creative director Paul Solomons, 43. They were introduced by a mutual friend in February 2018 and went public at Minogue's 50th birthday celebrations last May. As for which musical incarnation will follow 'country Kylie', Minogue isn't saying, but she has been refreshingly candid about how she'll cosmetically transform her image into 'ageless Kylie' if she needs to. 'I'm not pro or against [surgery]. One of my absolute idols is Jane Fonda, and the way she has handled it is admirable,' Minogue said in an interview last year. 'I remember her saying something like, it's 80 per cent genetics, ten per cent taking care of yourself and ten per cent a good surgeon. So if, and when, the time comes I'll be taking a leaf out of her book.'
Celebrity news, beauty, fashion advice, and fascinating features, delivered straight to your inbox!
The leading destination for fashion, beauty, shopping and finger-on-the-pulse views on the latest issues. Marie Claire's travel content helps you delight in discovering new destinations around the globe, offering a unique – and sometimes unchartered – travel experience. From new hotel openings to the destinations tipped to take over our travel calendars, this iconic name has it covered.