Merry Gothmas! A Guide To Being A Christmas Goth...
Your definitive gift guide to all things Goth for Christmas. Tis the season to be melancholy...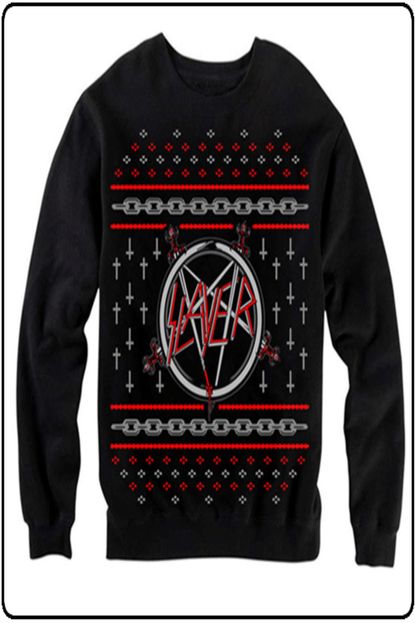 Your definitive gift guide to all things Goth for Christmas. Tis the season to be melancholy...
Being a Goth at Christmas is tough.
You've just navigated past that horrible post-Halloween point where everyone else is blathering on about mulled wine and bonfire night when all you really want to do is fling open your (sizeable) dressing box, slap on dark Christmas make up and festoon yourself in all manner of ghostly garb. Halloween is your Christmas, and whilst you get all the excitement about the festive season, you're feeling a little bit, well, melancholy about the whole darn thing. Don't. There's plenty of festive fun for you - dear little ghoul – at Christmas or Xmas (because the X looks like a cross, and you like those, don't you?) You've just got to know how to find it.
1. You can take part in the festive jumper trend too – sort of…
Screw the bells, ignore the tinsel - there are Christmas jumpers just for you now, Gothling. Buy them, wear them and revel in the darkness (and terror) that your jumper brings to those around you. We've popped a few below, but you can also just use an ordinary Christmas jumper – ideally with Rudolph on – and take a permanent marker and some scissors to sever his cute little head. Add leftover fake blood from Halloween for effect and you're finished - just like our furry friend. I bet his nose isn't looking quite so shiny and bright now it's turned putrid green and rotted off. (Too far?)
Slayer pentagram Holiday Sweater, £35 - basically badass and festive to boot!
Alchemy England Apparel Alchemist Christmas Jumper Size: L, £29.99 - I mean, who wouldn't want a sneering skull with mistletoe clenched between it's jaw wearing a santa hat on a jumper. It's a natural choice.
2. You can enjoy the best film ever made, over and over again
The Nightmare Before Christmas is the quintessential Goth film. For most of us, TNBC (shortened because we refer to it so often) was the catalyst that lead us down that path of darkness. We sat as children watching creepy Jack Skellington leap from Halloween town to Christmas town as our little souls turned black with misanthropic glee, and other kids hid their eyes in horror from what was supposed to be a children's film. Skellington himself is the perfect metaphor for any Goth wishing to actively partake in Christmas – you can jump between the two, in all manner of spooky joy – but you'll always come back to the dark side. Always. You're bound to it eternally. And if you're not – the rest of us will track you down and haunt you.
The Nightmare Before Christmas, £5.49 - You should already own this. If you don't, shame on you. Part with a fiver immediately and watch until your retinas burn.
The Official Nightmare Before Christmas 2016 Square Calendar, £7.99 - Every month starts with a new scene from your favourite film - if you want to switch it up, The Crow, The Craft and Ghostworld probably have calendars too. (I said probably to be all nonchalant and cool about it - I know they do...I've had them all.)
The Nightmare Before Christmas Santa Jack Decoration, £10.95 - Nestle Jack Skellington on your Christmas tree for a little bit of creepy cheer!
3.You can buy things you really want, but know you don't need…
Whilst it might have been seen as frittering away cash during other points in the year, you now have an excuse – nay, reason – to purchase Goth versions of normal things. So if your great aunt Joan asks if you'd like a lip balm for Christmas, you can say yes, yes please. I'd like this skull one that comes in BLACK.
Rebel's Refinery Capital Vices Skull Lip Balm, £8.50 - Goth's and non-Goth's alike witll rejoice over these cool-as-hell lip balms.
Black Toilet Paper - Renova Tissue Roll, £6.99 - like, totally a necessity.
Coffin box/casket, £22 - great for jewellery, or for creating a tiny gothic terrarium.
Ethically Sourced Taxidemy Jackdaw, £159 - well hey little guy - you're the perfect new addition to my completely black living room. The fact you are wearing a tiny rosary is a HUGE selling point.
For more goth lols from Marie Claire UK's resident office goth, head over to Twitter @itsmeanitab
Celebrity news, beauty, fashion advice, and fascinating features, delivered straight to your inbox!