Suki Waterhouse talks about her best beauty looks
How to contour with foundation and define your eyes without liner - really!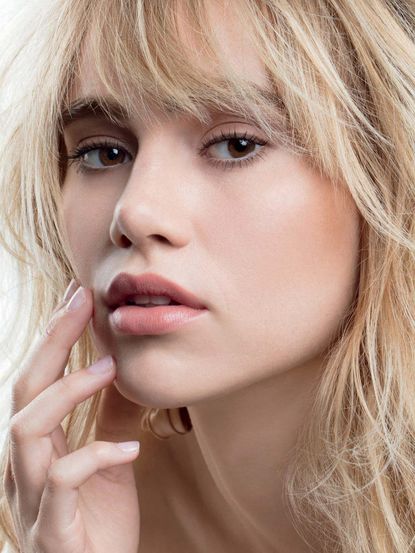 How to contour with foundation and define your eyes without liner - really!
On her 5-minute morning regime: I'm currently using Tata Harper Nourishing Oil Cleanser, £64, which I love. Then I'll slather my skin in Laura Mercier Infusion de Rose Nourishing Oil, £45, as it leaves it feeling so soft and the scent immediately makes my mind wake up. We all need a little rose in the morning! For base, I use Laura Mercier Flawless Fusion Ultra-Longwear Foundation, £35, in two shades to contour my face. I'll use a lighter shade on my forehead and under my nose and a darker shade on my cheek and jawbone.
On make-up being instinctual: It's guided by context and I'm very much about what I need for the day. I'll see how I feel and ask myself, 'Do I need a big shield of make-up to impress somebody, or do I just want to look natural?' I actually love sometimes going out with just nice, clean skin. There's definitely a power in being like, 'look at me, I'm not wearing any makeup!'. And then there are days when I need that edge and my eyeliner to feel more confident!
On the best make-up tip she's ever been given: My mum taught me to wiggle a neutral eye shadow into my top and bottom lashlines instead of using eyeliner. She started me off with a very modest introduction to make-up - and it was something I could get away with wearing at school! I still do it, now. Today I used Laura Mercier Caviar Stick Eye Colour in Sandglow, £23, to give me that subtle definition around my eyes.
On her unlikely beauty idols: I loved Alanis Morissette and Natalie Imbruglia. They were the perfect combination of beautiful women singing angst-y songs!
On her night time regime: Even though my dad (Norman Waterhouse) is a cosmetic surgeon I don't have the strictest skincare regime in the world! He's obsessed with the Healgel, £48, he created, though. He gets quite excited if we get stung or have any kind of rash as he likes to test how long it takes to bring the inflammation down! No, I'm all about mixing up different skincare products depending on what my skin needs that day. iS Clinical products are really good, especially the Pro-Heal Serum Advanced, which contains vitamin C. I also use Retinol Reform by Shani Darden, $95, at night. If I want a good moisturiser I'll whack on Crème de La Mer Moisturising Cream, £115, or Weleda Skin Food, £10.95. I'll happily leave Rodial Dragon's Blood Hyaluronic Acid Mask, £45, on overnight, too, as it's not too sticky. I think with a lot of skincare, it's really about putting in that extra time and effort to apply it right. Sometimes I'll get a face oil and sit in front of the TV for 20 minutes really pressing it into my skin, using circular motions and pressing down my nose. You're almost contouring your face by doing that. But if I want a proper facial I have Yvonne Martin and Waterhouse Young on speed-dial in London. In L.A., I love going to see Shani Darden, and Tracie Martyn or Joanna Vargas in NYC.
On her favourite fragrance: I don't really wear fragrance very much. I like to wash my skin in coconut oil rather than shower gel and that leaves behind a really subtle coconuty scent. I like when that mixes with my skin's natural musky smell. I'm a big fan of essential oils, though. I always mist lavender on my bedsheets and pillow and sometimes I'll mix a minty, invigorating oil with face cream and pat that on my temples when I need a pick me up.
On having low maintenance hair: I'm actually really bad. I used to wash my hair then go to bed with it wrapped in a towel. I'd wake up in the morning and it would look awful and I'd wonder why! I've started using Davines Minu Illuminating Hair Serum, £18.90. I just comb it through wet hair and it prevents knots and friction between my hair and the pillow when I'm sleeping. It's made a big difference!
On her signature brows: People want thick brows, and they're great, but thin eyebrows are really hot, too. Pamela Anderson's skinny brows are really cute! Sometimes having thick eyebrows can be annoying. They say brows are sisters not twins and occasionally that is really noticeable. Also, if they're not brushed up I can look like a sad old man! I usually just use a brush but sometimes I'll use a brow gel, too, to keep them in place. I've also started lightening my brows so they match my hair. Usually they are really black but I now go to see Kristie Streicher when I'm in LA - she colours and sculpts them for her famous feathered brow look.
On an off-label way to use a product: You don't need shaving cream – I just use conditioner to shave my legs! I also make my own face/body mask using coffee granules and honey. It really gets the circulation going!
On her own insecurities: I think one eye is smaller than the other. You see it in pictures but what am I going to do about that, really? I've also always had a bigger bum than other models I've worked with. But bums are in now!
On the beauty trend she won't be trying: I'm not sure that I'll be doing the wiggly eyebrow trend. Or putting cow placenta on my face again! Afterwards I got into the car with my mum and she was like, 'what is that smell?'. Then she sent a picture to the family Whatsapp looking like she was in hell sitting in the car next to me!
Celebrity news, beauty, fashion advice, and fascinating features, delivered straight to your inbox!
Fiona Embleton has been a beauty editor for over 10 years, writing and editing beauty copy and testing over 10,000 products. She has previously worked for magazines like Marie Claire, Stylist, Cosmopolitan and Women's Health. Beauty journalism allowed her to marry up her first class degree in English Literature and Language (she's a stickler for grammar and a self-confessed ingredients geek) with a passion for make-up and skincare, photography and catwalk trends.