Monodosing: you need to know about this new way of applying skincare
The perfect amount, every time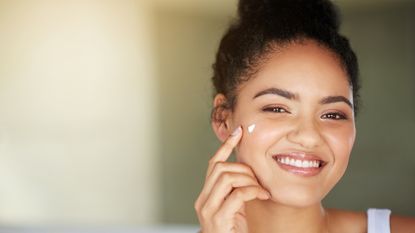 (Image credit: Getty Images)
The perfect amount, every time
We didn't think there could be a new way to apply skincare, but here we stand absolutely corrected. Monodosing is the newest way of packaging up and delivering your skincare goodness. However, it goes much further than the packaging, it is revolutionising the way we apply what's inside.
What is monodosing?
Monodosing is the term used for single dose skincare, often in the form of ampoules, capsules or vials. They contain perfectly measured ingredients that target specific skin needs.
Wo is a brand that delivers its skincare in exactly this way. So we sat down with founder, Karen Thompson, to ask why.
'Simply put, the Wo approach prevents waste and over-consumption,' she explains. 'As each product is a mono-dose, it contains the perfect amount of product your skin needs for each application. This means you can use the correct amount of product every time so not a drop gets wasted.'
There is also the argument that because the product has no exposure to oxygen, it retains its potency. When a formula comes in a jar with a lid that is opened regularly, it can become contaminated, affecting its efficacy. Some single dose formulas don't contain preservatives too, because they remain completely sealed until they are applied to your face.
Dr. Eleanor Bradley, Science Credentialling Manager – Research & Development at Boots, agrees with this. 'The formulation is protected from air and light, which really helps unstable ingredients such as vitamin c from deteriorating, ensuring you're getting the most from each ingredient each time you use it.'
What are the skincare benefits?
Well as we mentioned above, if your product is completely clear of contamination, you know that whatever you're putting on your skin is in the freshest it should be.
But also there's the fact that our skin is not always the exact same year round. 'You should adapt your skincare routine to be suited to your needs, don't pile your skin with ingredients that don't agree,' Thompson says. 'Be alert and aware as your skin changes over time, pay attention to what it is asking for.'
That makes complete sense right? Because if your skin is having a really bad day and is particularly sensitive, you don't want to apply punchy products that could further aggravate the inflammation. 'Single dose capsules are also a really flexible and hassle-free approach to skincare,' says Dr Bradley. 'You can just add them in to your regime as and when skin needs them – which is great for fluctuating skin concerns. Plus the dosage will have been worked out for you so you can apply without worrying about how much to use.'
Should I get rid of my other products?
No, there's a place for them all in the beauty world. If you worry about preservatives or how much product to apply, then monodosing is ideal. But it can also be viewed as a more tailored approach to skincare. If you have a flare up of something, you have just the right amount of potent targeted skincare at your disposal to treat it.
As Dr Bradley says: 'Monodosing is not there to replace normal sized beauty products, there is a place for both types of product in your skincare regime. Single dose ingredients offer flexibility and can be a great boost to your usual skincare routine. Using single doses as 'boosters' to help target specific skin concerns as and when your skin needs it.'
Oh and let's not overlook how brilliant they are for travel. Whether you're trying to fit everything into a small weekend bag for a staycation or hoping to keep all of your products under 100ml for the plane, these single doses are great travel companions. They are a total must for your skincare routine.
Celebrity news, beauty, fashion advice, and fascinating features, delivered straight to your inbox!
Katie Thomas is the Senior Beauty Editor at Marie Claire UK. With over 10 years of experience on women's luxury lifestyle titles, she covers everything from the best beauty looks from the red carpet and stand out trends from the catwalk, to colonic irrigation and to the best mascaras on the market. She started her career on fashion desks across the industry - from The Telegraph to Brides - but found her calling in the Tatler beauty department. From there she moved to Instyle, before joining the Marie Claire digital team in 2018. She's made it her own personal mission to find the best concealer in the world to cover her tenacious dark circles. She's obsessed with skincare that makes her skin bouncy and glowy, low-maintenance hair that doesn't require brushing and a cracking good manicure. Oh and she wears more jewellery than the Queen.