Hangover Beauty Tips: 6 Face Masks That Will Rescue Your Skin
You can pile on blusher and down water by the gallon, but if you're feeling ropey, your skin will give you away. Jess Lacey turns to hi-tech formulas for the ultimate cure.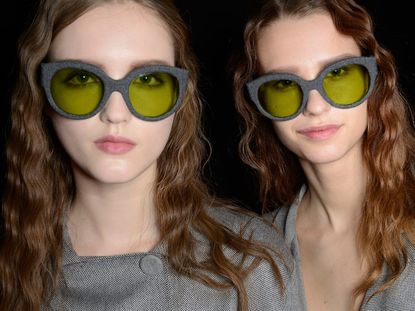 You can pile on blusher and down water by the gallon, but if you're feeling ropey, your skin will give you away. Jess Lacey turns to hi-tech formulas for the ultimate cure.
Hangover skin is full of contradictions: grey but blotchy; dehydrated but oily, with fine lines that definitely weren't there before. But alcohol is full of sugar, so it's like raiding a sweet shop and wondering why your skin looks bad.
Sugar kick-starts a process called glycation, which hardens surface cells and dehydrates skin. Alcohol also expands your blood vessels, which impedes circulation and disrupts the flow of oxygen – hence the red patches. Meanwhile your kidneys and liver are working overtime to detoxify.
Our biggest hangover beauty tip? Apply a face mask. Hi-tech formulas contain fruit acids to improve microcirculation and increase skin oxygen levels. 'Masks deeply hydrate, regenerate and comfort the skin to counter the visible effects of alcohol', says celebrity esthetician Joanna Czech, who works with Crème de la Mer. 'Ideally, apply a mask that night, when skin is able to absorb the product more effectively', she says.
It won't ease your pounding head, but your skin will look brighter, plumper and a lot perkier.
1. Emma Hardie Amazing Face Age Support Instant Radiance Mask, £36
Suffering from drabness and sagging? Use this. I woke up to smoother, firmer skin. The special ingredients are Pepper Fruit, which has firming properties, and Moringa Oleifera Seed Oil, which soothes. Leading facialist, Emma Hardie, has also included Persea Fruit Extract, Hydraulic Acid and natural peptides from avocado. Not only does this mask contain ingredients that work - it smells divine too! Lavender, camomile and vanilla undertones promise to create a mask that you will enjoy using.
2. Crème de la Mer The Intense Revitalising Mask, £105
This was so hydrating that my skin quickly drank it up - I didn't need to wipe it off - and make-up sat on top of my rejuvenated complexion perfectly. But, what else would we expect from Crème de la Mer? This unique mask contains the Miracle Broth which is crammed full of antioxidants and marine actives. These elements, combined with Lime Tea Concentrate, and Glacial and Elastic Kelp energise, protect and plump the skin.
3. Fresh Peony Brightening Night Treatment Mask, £48
This mask smells like cucumber and is just as refreshing. It contains licorice root, which is great for red wine-induced blotchiness. Proven to keep your skin hydrated for 24 hours, all you need is a thin layer once or twice a week, before you go to bed. It has never been so easy to wake up to younger looking skin.
4. Dr. Andrew Weil For Origins Mega-Mushroom Skin Relief, £36
This anti-inflammatory formula made my skin tone so even I didn't have to fake it with foundation. Just as the name says, this mask contains elements of three different types of mushroom – Chaga, Relshi and Cordyceps. These mushrooms are far from a new invention, having been used for thousands of years in traditional Chinese medicine. They boast incredible healing properties and help to keep your skin healthy, especially in stressful periods.
5. Givenchy VAX'IN For Youth Vital Energy Infusion Mask, £43
This mask eliminates oxidised proteins, so they can't cause any damage, and left me with a clear, luminous complexion. Professor Suresh Rattan discovered HSP70, which is a longevity protein that is produced in response to microstress. Production of this longevity protein is stimulated by using VAX'IN For Youth. Super scientific and yet all you need is to apply it generously a few times a week, let it soak in and then dab off the excess. Simple!
6. Rodial Super Acids X-treme Hangover Mask, £45
Too thick to risk on my pillows, I applied this straight out of the shower. In five minutes my skin went from grey to glowing. The five active ingredients all work together providing different benefits. Pronalen Fruit Acid removes dead skin cells, fine lines and wrinkles are reduced by LaraCare and Argireline, the skin is resurfaced by DuPont Glypure and Biotilys adds radiance.
Celebrity news, beauty, fashion advice, and fascinating features, delivered straight to your inbox!