The nail polish colours you shouldn't wear to an interview
Because your hands actually do a lot of talking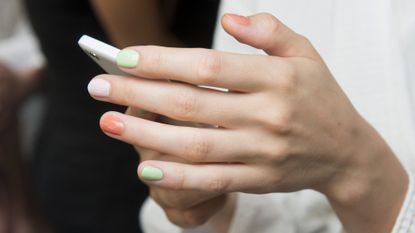 (Image credit: Matteo Valle)
Because your hands actually do a lot of talking
Our hands play such an important role in how we communicate. We use them to gesture, help describe things and better convey our messages on a daily basis. Which is why it's so important to consider them when going for an interview. Even without you knowing, you'll most likely use your hands when answering questions or expressing your opinion. And no one wants to do that with chipped nail polish, or a colour that screams something completely different to what you're trying say.
Pre-interview pamper? Tell the beauty editors at Powder a bit about your skin and they'll recommend the best face masks for you.
It may not seem apparent, but your choice of nail colour is actually an extension of your overall presentation. And it's not a one colour suits all kind of situation. What might be better for an editorial or fashion job, may not be ideal for a corporate position. And vise versa. So before you head to your next interview, consider the shade of nail polish you should wear... and those you might want to leave until your first day on the job. What nail polish colour should you wear to an interview? Read on...
Creative
You're in luck, because a creative position calls for a creative person, so generally any colour goes. Just keep in mind that glitter effects do give off a younger vibe.
Corporate
Because these roles call for a more formal approach, you should go for rich, dark colours like plum, forest green and dark grey or neutrals like ballet slipper, dusty pink and nude. If you want to wear a more punchy colour, go for a classic red, as other loud shades might have the power to detract attention away from your actual interview.
Health care
NHS guidance states that fingernails should be short and free of varnish, however polls have revealed that many health care professionals do wear nail polish. However, it's probably best to stick with neutral colours that have bene freshly done, as this is what will be expected once you're in the profession.
Business casual
Although it's casual, these business roles will still expect a certain style of uniform, so popping pinks and electric blue are probably best left for another day.
Celebrity news, beauty, fashion advice, and fascinating features, delivered straight to your inbox!