An expert has revealed everything you need to know about eyebrow threading
Get up to speed on the popular hair removal technique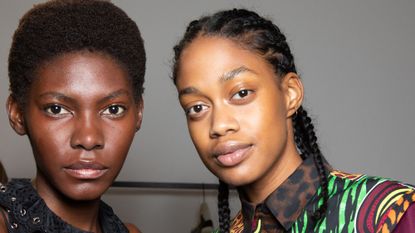 (Image credit: Getty Images / Rosdiana Ciaravolo )
There are so many things that you can do to your eyebrows to enhance them, like waxing, microblading and brow lamination. But one of the oldest and most popular methods is eyebrow threading.
Often the oldest beauty practices are actually some of the best and that applies to threading; it's precise, cost-effective and painless for many. Even though it's not a new method, there's probably a fair bit you don't know about threading. If you're considering threading or just like to know a little more, we've called in the help of Yana Gushchina, founder of London-based brow bar, Browfique, to get you up to speed on all things eyebrow threading—from the process, benefits, limitations, and aftercare.
What is eyebrow threading?
Of course, we've got to start at the basics of what eyebrow threading actually is. Threading is pretty much as the name suggests, "threading involves using a twisted, thin thread to remove unwanted hair," says Yana. "By doubling the thread and twisting it to create a loop in the centre, you can then entwine the hairs within the twisted thread to remove them, by placing one loop of the thread over the hairs to be removed and pulling gently on the other side," she explains. Opening and closing this thread loop means a scissor-like motion is created that cuts the hair, "this allows for a very precise hair removal process," Yana says.
There are many benefits of threading, including accurate removal, a quick process, fairly long-lasting, and it's a gentler method than waxing for example.
What is the process of eyebrow threading?
The eyebrows are first cleansed to remove any leftover make-up and debris from the skin. The brow tech then maps out the shape of the brows and checks that you're happy with it. "They will then go in with the threading method and finish with a soothing lotion to reduce any redness or irritation and to provide relief to the area," Yana says. Some people experience more inflammation than others, this is something you can discuss with your practitioner—more on this later.
Who is threading best for?
Yana explains that everyone is a great candidate for threading, especially those who struggle with waxing or post-wax breakouts. Many practitioners recommend threading over waxing for those with acne, too.
Although threading doesn't hurt, the sensation is a little odd (similar to using an elastic band on your skin), which some people might not particularly like.
If you regularly use retinoids, this is something you'll have to avoid seven days prior to your appointment, otherwise you risk skin sensitivity and even skin breakage. "The same goes for chemical peels; try to avoid them the week before your appointment to allow your skin enough time to recover," Yana adds. If you have any concerns or questions about this, it's best to contact the salon ahead of time.
How long does threading last?
Depending on the speed that your hair grows, it will last anywhere between two and four weeks. Because threading mainly removes hair from the surface of the skin, some people might find it doesn't last as long as waxing, which removes the hair from the follicle instead. "The hair may grow back quicker than if you were to wax it," Yana says.
Threading aftercare
Some people have more sensitivity than others after threading, but abiding by aftercare minimises this. Yana recommends applying "a light moisturiser to the area to keep the skin hydrated and soothe any redness that occurs during the treatment." In addition to this, avoid direct sunlight, swimming in chlorinated water, using saunas or applying make-up to the area as she says this will help to avoid further irritation.
Yana likes to recommend the Nouveau Lashes Lash & Brow Conditioning Serum post-treatment for conditioning to clients, as well as the HD Brows Brow Glue to set brows in place.
Threading maintenance
When it comes to maintenance, it really depends how long you like to leave your brows before getting them redone. However, Yana says most people leave it three to four weeks, "this gives sufficient time for the hair to regrow enough to obtain effective removal with threading." Any shorter and she explains that the hair may not be long enough to work with, "as the thread needs to be able to get a good grip."
The cost of threading ranges from anywhere between £5 and £25.
Aftercare product recommendations
La Roche-Posay Cicaplast Baume B5+
This soothing, skin barrier repairing cream is great for any kind of irritation. Apply a small layer on the area before bed and it'll be far less red by morning.
Celebrity news, beauty, fashion advice, and fascinating features, delivered straight to your inbox!
Tori is a freelance beauty journalist and contributor for Marie Claire. She has written for various titles, including Allure, Glamour, Elle, Refinery29, Brides, and more. Currently training to be a nail tech, Tori is a total nail enthusiast and always has time to talk all things nail art. When she's not writing about beauty and testing products, Tori can be found walking her rescue dog Pip, drinking great coffee, and eating as many croissants as humanly possible.