Model Bambi Northwood-Blyth Spills Her Top 7 Beauty Rules
Our September beauty model talks skin, make-up and those killer brows.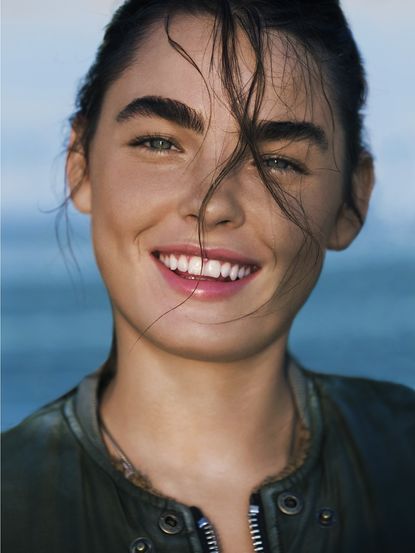 Our September beauty model talks skin, make-up and those killer brows.
1. I use Dermalogica Special Cleansing Gel, £27.70, for my face every day. It's really gentle and removes all of the make-up after shoots. I only use a scrub once a week as it's too much everyday and dries my skin out.
2. The quickest way to get radiant skin is by using Clarins Beauty Flash Balm, £29. It's an amazing pick me up for tired, stressed skin. Your complexion looks super radiant after so I only need to use concealer after rather than a full face of make-up. 3. I love paw paw lotion (or vaseline) on my eyelids, cheeks, cuticals. It's great for getting that glow to the top of your cheeks.
4. I couldn't live without rose water spray. It's so nice and refreshing, especially on planes. I always have some in my handbag or if I am at home I like to keep it in the fridge. It's great for de-puffing skin whens it's super cool. The MC beauty team love Melvita Damask Rose Floral Water, £16 5. I'm all about a statement brow. I have practiced to get my eyebrows thick and healthy. I had some disasters where I would be plucking them and then accidentally caught three or four and I'd have a massive hole. I looked like some kind of a rapper with a shaved line. So I only pluck the stray hairs now. 6. I like the Bumble and Bumble Surf Spray, £21.50, to create a more textured look. And I use dry shampoo all the time even if I have just washed my hair, it gives it a bit more volume otherwise it can get a bit flat. 7. Always wear sunscreen. Even when it's not summer time.
Celebrity news, beauty, fashion advice, and fascinating features, delivered straight to your inbox!