Kidnapped Nigerian Schoolgirls Are Reportedly Seen For The First Time On This New Video
A newly released video suggests that at least 130 of the 276 Nigerian schoolgirls who were kidnapped by the Boko Haram are still alive and unharmed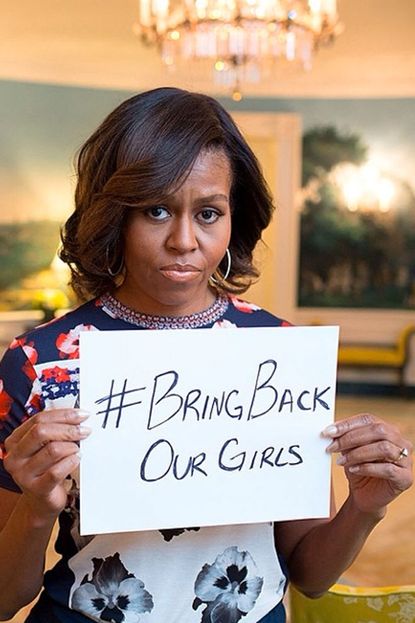 A newly released video suggests that at least 130 of the 276 Nigerian schoolgirls who were kidnapped by the Boko Haram are still alive and unharmed
It's been almost a month since terrorist organization Boko Haram abducted 276 Nigerian schoolgirls from their school in Chibok, Nigeria. Now, we're reportedly getting the first glimpse at the girls since their kidnapping.
Boko Haram released a chilling new video, originally obtained by AFP, that seems to show a group of the girls, though the authenticity of the footage has yet to be confirmed. The video shows about 130 girls -- just under half of the total number who were taken.
The good news is that the girls in the video are all alive and appear to be unharmed. One girl speaks directly to the camera, saying that no one in the group has been harmed.
It is thought that the girls were a mix of Christians and Muslims -- but the video shows all the girls dressed in the full hijab, reciting passages from the Quran. In the video, Boko Haram leader Abubakar Shekau says they have all been converted to Islam.
The fact that only 130 girls appear in the footage is also worrying, as the missing girls' safety cannot be accounted for. But it is thought that the group may have simply been split up to help conceal their whereabouts.
In the weeks since the kidnapping, several political leaders and celebrities -- including Michelle Obama, Jessica Biel, Angelina Jolie and Alexa Chung -- have joined the #BringBackOurGirls campaign to help fight for their return.
For more on the kidnapping of the Nigerian schoolgirls, read our full story: #BringBackOurGirls: What You Need To Know About The Abducted Nigerian Schoolgirls.
Got a tablet? Take the new look Marie Claire wherever you go, download straight to your iPad & iPhone, Kindle (just search the store for 'marie claire magazine'), Nook or Google Nexus for only £2.99.
Celebrity news, beauty, fashion advice, and fascinating features, delivered straight to your inbox!
Ali Gray is an award-winning content director and digital strategist. Most recently she was the Director of Branded Content at Hearst, and helped to bridge the gap between the editorial and commercial worlds working across all Hearst brands, including ELLE, Cosmopolitan, Esquire and Harper's Bazaar. Prior to that she worked as an editor contributing to several brands such as The Telegraph, iVillage UK.