The Girls 20 Summit: Why You Should Pay Attention
Farah Mohamed, CEO & President of G(irls)20, speaks about the advantages of empowering young girls and women and why it's worth the world's attention.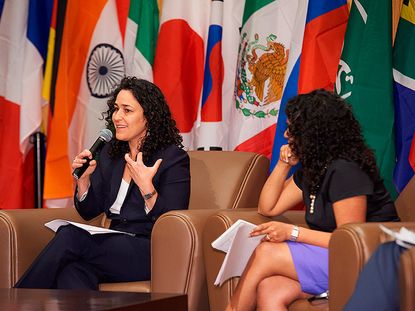 Farah Mohamed, CEO & President of G(irls)20, speaks about the advantages of empowering young girls and women and why it's worth the world's attention.
As world leaders strive to improve the global economy, they have an opportunity to maximize a resource and game changer – girls and women
With 3.5 billion girls worldwide, there are 3.5 billion ways to improve the world. But without opportunities and investments in young women's education, their potential societal and economic impact is lost.
More than half of the 163 million illiterate youth in our world are women and there are 31 million school-aged girls who will never be educated. Two hundred and fifty million adolescent girls live in poverty around the world.
I could continue to list statistics, while noting studies that illustrate the economic disadvantages of women in today's society, but that's not my goal. My goal is to change the current narrative-one that is too often supported by negative stories and depressing statistics-so that others can begin focusing on the positive realities of what happens when you economically empower and invest in girls and women.
Right now, leaders of the Group of Twenty (Or "G20") countries, which make up 85 percent of the world's economy, are preparing to discuss potential policies that could lift the global GDP by more than two percent over the next five years. My recommendation for growth? Leverage the often untapped potential of girls and women.
This means everything from creating more opportunities for girls to be educated, improving women's property rights and access to technology, and hiring women for positions in senior management.
By the time the world leaders meet to discuss these policies at the G20 Leaders Summit in November, they will have received a formal proposal for how to best economically empower young girls and women as a way to grow the global economy from this year's 24 delegates to the G(irls)20 Summit.
Mirrored along the same architecture of the G20, G(irls)20 brings together one girl between the ages of 18 to 20 from each G20 country, plus additional representatives, and allows them to debate and design solutions that will economically advance young girls and women around the world. While the G(irls)20 delegates and the G20 leaders share the same goals of economic growth, political stability and social innovation, it is the approach to these goals that makes the difference.
I founded G(irls)20 because I saw the unmet need and tremendous opportunity to show the economic impact young women can have on the global economy. Each year we choose 18-to-20-year-old girls from around the world to participate in a year-long mentorship and leadership training program that provides skills based trainings to allow them to go back to their countries and create change. These young women are willing to take a risk. They are motivated and disruptive. They are social entrepreneurs who are working to solve the world's toughest challenges and they are the new breed of philanthropists.
We teach them to look for local solutions to global challenges, create a business plan on how to solve them, present their solutions to the world's leaders and then take these ideas back home and put them into action.
Consider Riana Shah from India, who, after the 2011 G(irls)20 Summit in Paris, launched Independent Thought & Social Action International (ITSA), a youth-led education reform organization that creates socially responsible young leaders through critical thinking and social action. Or Thato Zoe Mokoena, a 2012 delegate from South Africa who, along with the 2012 South Korean delegate, Veronica Cho, founded an initiative called Presidential Girl, which provides a platform for young girls who are disadvantaged to become politically active in their local communities.
I could continue to list the many initiatives these talented, innovative young women have designed and implemented – or you can see them yourself at our website.
By training these girls around digital literacy, financial literacy, leadership and globalization, we are preparing them, at a significant time in their lives, to fully participate in the economy. If you're serious about growth, you're serious about political stability and you're serious about social innovation, you have to utilize everyone who is available to meet those goals.
When you invest in girls and their education, they will be qualified and prepared for higher-paying jobs that support them – and also generate economic growth. If countries take them out of that equation, society loses out – and so does the economy.
Studies show that when women and girls earn income, they reinvest 90 percent of it into their families. Studies also show that when you give women the same access to non-land resources and services as men, the number of hungry people in the world could be reduced by 100-150 million.
When 10 percent more girls go to school, a country's GDP increases on average by three percent. Companies with the most female managers yield a 34 percent higher profit compared to companies without female managers. Additionally, closing the joblessness gap between girls and their male counterparts would yield an increase of GDP of up to 1.2 percent in a single year.
The facts and figures are there, and we must start paying more attention to the positive ones – and drive policies that will disrupt the negative ones. Because by doing so, we are ultimately improving the world in which we all live.
The G(irls)20 Summit is one of many solutions to giving young women the chance to get trained, make their voices heard and effect change.
I have been privileged to spend a lot time with young women, and I have seen the tremendous challenges they face and the mountainous obstacles they often experience along their path. But I also know that with the right training, encouragement and a platform to share their ideas, they can accomplish anything.
I am optimistic that if we act now and impact lives – one girl at a time – we will change our communities, our economies and our world.
Celebrity news, beauty, fashion advice, and fascinating features, delivered straight to your inbox!