Female fighting spirit: meet the Bolivian women wrestlers taking to the ring in their petticoats
Bolivia's 'flying cholitas' are reclaiming their identity in the most badass way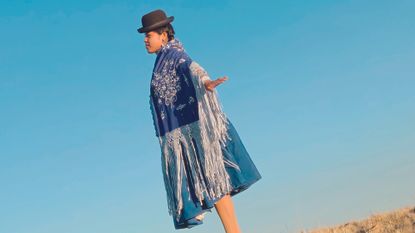 (Image credit: Luisa Dorr)
Bolivia's 'flying cholitas' are reclaiming their identity in the most badass way
'I was always a fan of wrestling – I liked to go to the coliseum to see old fighters because I wanted to be just like them,' says 19-year-old Noelia, nicknamed Elsita. 'At first my mother did not want to let me, she told me that I would get hurt, but I followed my dream and I've been fighting for three years.'
In the Andean highlands of Bolivia, Noelia is part of a growing subculture of indigenous women, known as the 'flying cholitas'. Every Sunday, dressed in their traditional pollera (pleated skirts) and bowler hats, with braids down to their waists, they take to the ring for a spectacle of colour and performance. 'It was the Altenos (women) of El Alto who transformed the city,' says photographer Luisa Dorr. 'And here, they relive their sense of struggle and celebrate their fighting spirit as the crowds cheer.'
Ready for action
Wara, 19, prepares for her big moment in the ring at Dolores de El Alto Sports Centre, El Alto
Lipstick warriors
Angela, a single mother, applies her lipstick in a cable car on her way to a wrestling match in La Paz. She uses the money she earns from fighting to send her son to school
Dressed for a fight
Wara, a 19-year-old wrestler, says, "Thanks to wrestling, I have traveled to many places in Bolivia. For us, this is our profession."
Ready to rumble
A fight at the Dolores de El Alto Sports Centre, El Alto
'Flying cholitas'
Noelia, 19, fulfilled her childhood wrestling dream and has now been fighting for three years
Celebrity news, beauty, fashion advice, and fascinating features, delivered straight to your inbox!