Facebook have refused to remove the controversial Raoul Moat tribute page despite complaints from David Cameron. Is the website providing a forum for healthy discussion?
Facebook have refused to surrender to growing pressure to remove the 'R.I.P Raoul Moat You Legend' tribute page from the social networking site, despite complaints from the Prime Minister.
David Cameron told the Commons he could not understand the wave of sympathy for Moat, who shot three people and killed one, before going on the run and turning the gun on himself last week.
'It is absolutely clear that Raoul Moat was a callous murderer, full stop, end of story,' he said.
A spokesman for the website defended the decision to support the tribute page, claiming it is part of the healthy discussion available on Facebook, enabling people to debate topics of interest, and does not violate its terms.
'Raoul Moat has dominated public debate over the last week and it is clear that there are lots of different and opposing opinions, both about Moat himself and about the investigation which surrounds him,' the spokesman added.
More than 21, 000 people have already logged on to the page, with an overwhelming majority offering their support for Moat's rampage in Rothbury, Northumberland branding him a legend and misunderstood, while criticising Northumbria police in the crudest possible way.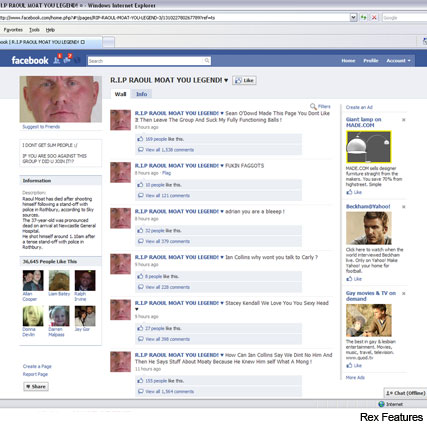 And, the tributes go further than facebook, with scores of people flocking to the riverside spot where he shot himself, turning it in to an outlandish tourist attraction complete with a plentiful array of flowers and sympathetic messages.
Do you think this glorification of Raoul Moat can be justified? Do you agree with facebook's decision to condone the celebration of a murderer?
Perhaps you think this tribute page represents a frightening uprising against the authorities and the law? Or alternatively, do you agree with facebook that the page facilitates healthy discussion?
Whatever your thoughts, however extreme, Marie Claire wants to hear from you by posting a comment below.