These 8 Women Are Saving The Planet As We Know It
Sure, you recycle your tin cans and turn off the tap when you brush your teeth. But meet the women who are fighting climate change on a daily basis…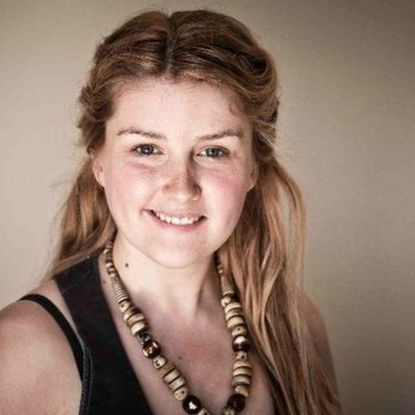 Sure, you recycle your tin cans and turn off the tap when you brush your teeth. But meet the women who are fighting climate change on a daily basis…
Credit: Twitter
Emily Hunter, Canada
It's a rule of celebrity thumb that if your parents are actors/singers/reality-TV-stars, you're going to grow up to be an actor/singer/reality-TV-star too. (Or at least, you're going to try.) But what if your parents have saved the world as we know it? Yeah. That's real pressure.
The daughter of Greenpeace founders, Robert and Bobbi Hunter, 31-year-old Emily has always had some pretty big (and presumably vegan leather) shoes to fill. Launching her first campaign to protect the Galapagos Marine Reserve when she was just 20 years old, she's since appeared in multiple documentaries about the environment, written several books, and been dubbed the 'eco huntress'.
'I woke up to the realities of the world,' she says, talking about her upbringing with eco-warrior parents. 'People need to wake up a little bit and realize what's going on… Generally in our culture, we're very much pacified, very much sheltered, very much a culture that is turning a blind eye.'
Credit: Twitter
Simran Sethi, America An ex-MTV producer, Simran founded the eco-blog Treehugger.com way back in 2006 – and in the space of nine years, it's become one of the internet's most successful environmental websites.
Meanwhile, Simran consistently tops eco power lists (yes, they're a thing), has worked closely with the likes of Al Gore, and even appeared on the Oprah Winfrey Show as an environmental expert.
'I believe we start by understanding what it is that people value and, from there – from a place of responding to what we hear – we explain what is at stake, what it is we are losing,' she says. 'I'll use myself as an example: I care deeply about biodiversity, but when you tell me about species loss in the Amazon, I glaze over a bit. It isn't that I don't care; I just have a lot of other cares crowding out that one. Now tell me about that same loss in the context of foods I love, and you've hooked me. In fact, you've hooked me so much, I am writing a book about it.'
Credit: Instagram
Mei Ng, Hong-Kong Back in the 1970s, Mei was volunteering at the Hong Kong Children's Health Education Foundation when she began to think about the future of our planet. Keen to protect children from toxins in the environment, she began researching 'green' activism – and grew increasingly involved in the subject until she was made director of Friends Of The Earth in the '90s. Focusing specifically on women (and getting them involved in the environment), she's one of China's most longstanding activists – and is thought to have made an impact across 15 countries in Asia. Whenever she's asked why she took up the cause, her response is the same. 'Because I am a mother,' she replies, adding. 'I'm never bored with my life and I hope to die happy, because I don't do all this for myself but for the whole future of humankind.'
Credit: Rex
Sangduen Chailert, Thailand Imagine how different your life would be if you'd grown up with a baby elephant for a best friend. You could do everything together! Play in the sandpit together, try to fly using only your ears together, suck dust up with your nose together… It would be totally ace. So it's no surprise that Sangduen – whose grandfather was given a pet elephant when she was a child – grew up to prioritise environmental conservation.
Raised in northern Thailand (near the backpacker's paradise of Chiang Mai), Sangduen has dedicated her life to animal welfare and the protection of Asian elephants, founding the Elephant Nature Park specifically to help distressed, disabled and injured elephants of all ages. In 2010, Hillary Clinton named her one of the top ten heroes of Global Conservation, and has even been dubbed 'Hero Of The Planet' by Ford.
'When I was young, I felt sorry and sad for the elephants,' she explains. 'I loved them, but that wasn't what motivated me to work for the animals. The thing that really changed my life was when I was 16 years old. I went to a logging camp and saw the elephants there, and I saw the abuse they received. That was something that changed my mind about animals and the way we live with them.'
Credit: Tulele Peisa
Ursula Rakova, Papua-New Guinea Ursula is the Executive Director of Tulele Peisa – a local charity that is trying to relocate the entire population of the Carteret islands to nearby Bougainville – because climate change is making it impossible for them to stay in their homes.
After being asked by her island's elders to do something to help the otherwise-doomed community, Ursula has dedicated her life to transforming their society – raising awareness of global warming, promoting education, and launching new employment initiatives to integrate the Carteret people into their new home.
'I want to make sure that my people have a future life for generations to come,' she says. 'I would say to people who believe that climate change is not happening, if you have the heart to feel that you are flesh and blood, start to think about us on the island. What is a choice of lifestyle for you is a choice of life or death for us. I do not think you need to question whether this is climate change or not. You should be able to put yourself in our shoes, and maybe travel to our islands; we invite you to come and see for yourselves.'
Credit: Twitter
Winnie Asiti, Kenya As one of Kenya's youngest climate change activists, there's a lot of pressure on Winnie's shoulders. At only 25, she's a key member of the Global Greengrants' Next Generation Climate Board – distributing grants to low-level environmental campaigners across the world, while raising awareness on a grassroots level in her own community, too.
'I think a lot of women activists bring to the climate change debate the whole aspect of its human impact,' she says. 'I think for me that is quite profound, because women are able to relate to some of these things - especially those that are coming from communities or countries where there are climate change effects such as drought, [or] floods, the coastal areas rising and all of that.'
I have helped plan marches, plant trees, organize conferences, attended various forums… to try and make sense of the biggest crisis we face today. I have been part of the [eco] movement since 2009, and have learnt the power of our voices - voices of communities, youth, women & other vulnerable groups - and have learnt that I am the change I long for.'
Credit: Rex
Kathy Jetnil-Kijiner, Marshall Islands Teaching Pacific Studies at the College of The Marshall Islands – once a US nuclear test site – Kathy has grown up campaigning for local environmental awareness and the impact of nuclear power. And it's no surprise – in the space of 12 years, the United States conducted 67 nuclear tests in her homeland. The combined power of the tests averages out over that time frame at the equivalent of 1.6 Hiroshima-size explosions every day – irreparably damaging the local eco systems.
And it gets worse. If sea levels continue to rise, it's thought that two thirds of the Marshall Islands will be underwater by 2100 – meaning up to 70,000 people will lose their homes, and their livelihoods.
'Climate change is a challenge that few want to take on, but the price of inaction is so high," says Kathy. "Those of us from Oceania are already experiencing it first hand. We've seen waves crashing into our homes and our breadfruit trees wither from the salt and drought. We look at our children and wonder how they will know themselves or their culture should we lose our islands."
Credit: Rex
Audrey Siegl, Canada Standing on a small inflatable boat and banging a drum, Audrey spent the 17th of June 2015 facing off against a 300-ft-tall oil rig owned by Shell, signalling for it to stop moving towards her.
Protesting against Arctic drilling, and working closely with Greenpeace to connect indigenous communities along the British Colombian coast, Audrey describes herself as part activist, part artist.
'Whether in the Arctic, in Canada, in Asia, in South America, in Europe or anywhere in the world, we must unite and empower each other and ourselves. Our job is to use our voices and presence to shine a light on injustice. We must be indivisible. We must always know what we are up against but even more importantly, we must know what we are protecting. That is why we must unite and be one in our fight together.'
Celebrity news, beauty, fashion advice, and fascinating features, delivered straight to your inbox!
The leading destination for fashion, beauty, shopping and finger-on-the-pulse views on the latest issues. Marie Claire's travel content helps you delight in discovering new destinations around the globe, offering a unique – and sometimes unchartered – travel experience. From new hotel openings to the destinations tipped to take over our travel calendars, this iconic name has it covered.