Woman Pleads Guilty To Abusing Jane Austen Campaigner In Landmark Twitter Case
The two Twitter trolls who threatened feminist Caroline Criado-Perez could face jail. Will this change the way we use social networking sites?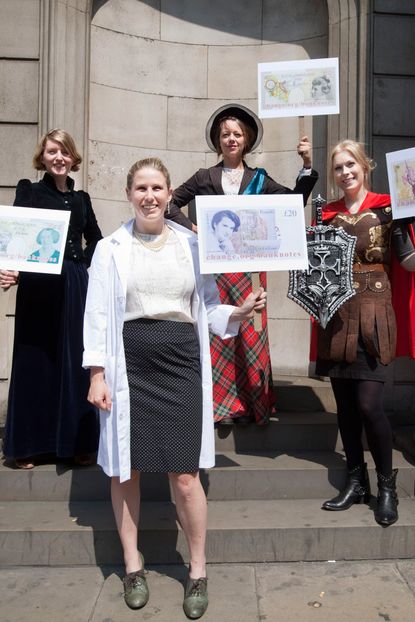 (Image credit: Rex)
The two Twitter trolls who threatened feminist Caroline Criado-Perez could face jail. Will this change the way we use social networking sites?
Two Twitter trolls have pleaded guilty to making threats to kill and rape a campaigner who helped to get Jane Austen on the £10 note.
Caroline Criado-Perez, who describes herself as a feminist on her own Twitter profile, has thanked her supporters following the pair's plea, which is a groundbreaking move in court cases related to social media abuse.
'For obvious reasons I am staying off Twitter as much as possible today, as inevitably the renewed attention will mean renewed abuse (hopefully not actual threats, but you never know),' Criado-Perez wrote in an official statement online.
Isabella Sorley, a 23-year-old college graduate, and John Nimmo, a 25-year-old described as a recluse, both bombarded journalist Caroline with threats on Twitter, including attacks 'worse than rape'.
A court heard yesterday that Sorley wrote: 'F*** off and die you worthless piece of crap, you're a waste of air, you should of just jumped in front of horses, go die!'
Ten minutes later she sent another message, saying: 'I've only just got out of prison and would happily see you berried!! #tenfeetunder'. (sic)
'This news is a bit of a shock,' Criado-Perez continues in her statement. 'I am hugely relieved that these two defendants have pleaded guilty, meaning that there is no need for a trial and for the whole process to drag on longer.'
She added: 'This is not a joyful day; these two abusers reflect a small drop in the ocean, both in terms of the amount of abuse I received across July and August, but also in terms of the abuse that other women receive online – women who have little to no recourse to justice.
'However, I hope that for some people who are watching, this conviction will be a warning: online abuse is not consequence-free. I hope that some people watching will think twice before abusing someone else.'
In court, Alison Morgan, prosecuting, said Criado-Perez had received abusive messages 'of one type or another' from 86 Twitter accounts including those accounts connected to both Nimmo and Sorley.
She told Westminster Magistrates' Court: 'Caroline Criado-Perez has suffered life-changing psychological effects from the abuse which she received on Twitter.
'In particular, the menacing nature of the tweets sent by both defendants caused her significant fear that they would find her and carry out their threats.'
Setting a precedent for today's alarming community of Twitter trolls, District Judge Howard Riddle remanded Sorley in custody following the verdict, adding she will 'almost inevitably' be sent to prison.
Both Sorley and Nimmo will be sentenced on 24 January.
Let's hope Caroline's experience changes the way we use Twitter and sees trolls banished from the site once and for all.
Got a tablet? You can now download Marie Claire magazine straight to your iPad, Kindle (just search the store for 'marie claire magazine'), Nook or Google Nexus.
Celebrity news, beauty, fashion advice, and fascinating features, delivered straight to your inbox!