Pay gap closing as women earn more
Women in their 20s are overtaking men in the pay stakes - and now experts are expressing concern about young men falling behind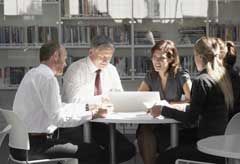 (Image credit: Rex Features)
Women in their 20s are overtaking men in the pay stakes - and now experts are expressing concern about young men falling behind
Women in their 20s earn 3.6 per cent more than men of the same age according to figures from the Office for National Statistics (ONS).
The trend highlights the fact that girls are excelling in school and are increasingly going to university before enjoying successful early careers.
The ONS claims that women in their 20s earn around £10.45 an hour, compared with men who earn just £10.08.
But the situation changes as we reach our 30s.
As women begin to consider starting a family, we appear to be losing our edge . Between the ages of 40 and 49, men working full time are paid £15.14 an hour compared to women who earn £12.77.
Family expert and the author of The Price of Parenthood, Jill Kirby, says the pay gap between the sexes has nothing to do with discrimination.
'It is the fact that women become less committed to the workplace at the point in their lives when they have children,' she says. 'They want to spend more time with their children, and regard lower pay as a trade-off for family time.'
What's been your experience of equal pay? Have you paused your career to retrain or start a family? Has this had an impact on yoru earning potential? We want your experiences in the box below.
Celebrity news, beauty, fashion advice, and fascinating features, delivered straight to your inbox!