Mad Men boosts sales of whisky
Cult series Mad Men has boosted sales of whisky, as characters Don Draper and Joan Holloway make it the stylish must-have drink for all of us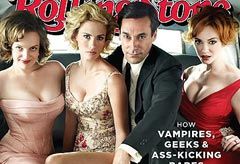 Cult series Mad Men has boosted sales of whisky, as characters Don Draper and Joan Holloway make it the stylish must-have drink for all of us
Cult series Mad Men has boosted sales of whisky, as characters Don Draper and Joan Holloway make it the stylish must-have drink for all of us.
We've all lusted after Christina Hendricks' figure and tried to channel the fabulous 60s fashion, but it now seems we are trying to emulate all aspects of cult series Mad Men, with malt whisky fast becoming our favourite tipple.
SEE CHRISTINA HENRICKS' STUNNING STYLE AT THE EMMY AWARDS
According to latest research, the popularity of whisky has become a firm favourite with many younger drinkers.
Dubbed 'The Mad Men Effect', analysts believe the increased demand for the liquor is due to the style status it has achieved through the series.
Don Draper and Joan Holloway are often shown sipping whisky in their swanky Madison Avenue offices - and now the show has turned the rest of us on to the amber nectar with sales of the stuff soaring.
'Evidence suggests that younger poeple are being attracted to malt as it's seen as an aspirational and stylish drink,' said Rosemary Gallagher of the Scotch Whisky Association.
Sales are up 13.4 per cent in the last year, with US consumers accounting for £267.6 million sales.
The big brands have benefited the most with Jack Daniel's growing by 16 per cent, Famous Grouse going up by 14 per cent and Glen's jumping up 11 per cent.
'Don Draper and co have not just influenced our sartorial habits,' said a report in The Grocer. 'More and more people are also emulating the glamorous Mad Men characters by developing a taste for high-end spirits – particularly fine Scotch.'
Celebrity news, beauty, fashion advice, and fascinating features, delivered straight to your inbox!
Natalia is a health journalist with 14 years experience in the publishing industry. She has worked for a number of well known magazines and websites including Marie Claire, Woman&Home, Top Sante, Boots and The Telegraph. She likes to think she practices what she preaches when it comes to health and fitness. Her athletic prowess began early. A keen fencer for 13 years, she wielded an epée for Olympic Team GB during her teenage years. She likes to think she made sword-fighting cool before Game of Thrones came along! While working on her sporting performance with the team, she also participated in a lot of nutrition and psychology training, When it comes to time off, you'll most likely find her up a mountain somewhere. It seems holidays have become a time for climbing several thousand feet, rather than chilling out. She's now hiked eight of the major mountain ranges across four continents – including the Appalachians, the Smokies, the Sierra Nevadas (she spent her honeymoon hiking to the top of Half Dome), as well as hitting the summits of Snowdon, Pen-Y-Fan (Brecon Beacons), Table Mountain in South Africa, the Blue Mountains in Australia and the Atlas Mountains in Morocco. She's also passionate about all things health, particularly vaccinations, and will happily jump on her soap box at any given opportunity to talk about their benefits to anyone who will listen!