A Baby Girl Is Aborted Every Minute In India, But THIS Is Helping Change People's Attitudes...
ActionAid India has launched a revolutionary new initiative called Beti Utsav.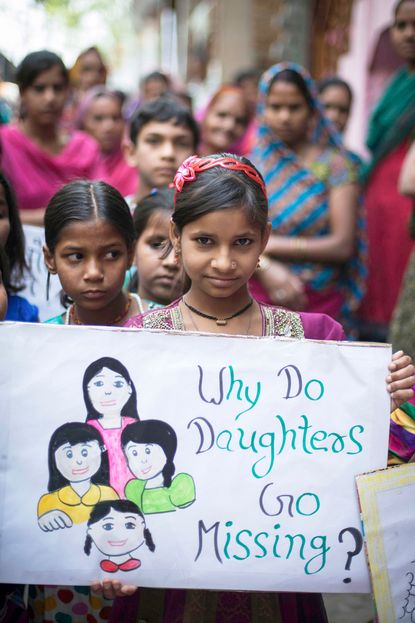 (Image credit: ActionAid)
ActionAid India has launched a revolutionary new initiative called Beti Utsav.
Beti Utsav (literal translation: a festival for daughters) is a revolutionary new initiative launched by Action India, a partner of charity ActionAid, to combat the problem of gross gender discrimination and female infanticide (every minute in India, a baby girl is aborted).
Every three months, staff and volunteers log the number of girls born in Delhi. The mothers are contacted and brought together with their families and communities for a big party. Locals march down the street, singing, dancing, banging drums and holding banners reading: 'Boys and girls are equal.'
Once the party reaches the mothers' homes, they are given sweets and wished good luck, amid chants of 'Beti Mubarak ho!', meaning 'Congratulations on the birth of your baby girl.'
Until now, it was only baby boys who were celebrated in this way. In India, boys are prized, since the family name and property are passed down to them, whereas girls are seen as a financial drain because of the enormous expense of elaborate dowries.
Beti Utsav, which was launched in 2010, is empowering mothers of daughters and encouraging whole communities to challenge patriarchal notions and realise that baby girls are equally as prized as baby boys.
Smita Khanijow, programme manager of ActionAid India in Delhi, says: 'New mothers have thanked us for being the first to say kind words on the birth of a daughter. They have told us that these celebrations go a long way towards allowing them to gain more acceptance within their families and society.'
Watch the short video below to see the effect these Beti Utsav events are having on the women of India.
To donate and find out more, visit actionaid.org.uk/girlbaby.
Celebrity news, beauty, fashion advice, and fascinating features, delivered straight to your inbox!