First British drug addict sterilised in exchange for money
A British man has become the first drug addict in the country to receive a vasectomy in exchange for cash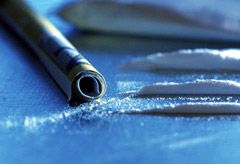 A British man has become the first drug addict in the country to receive a vasectomy in exchange for cash
A drug addict, known as John, has become the first man in Britain to be sterilised in exchange for £200 under a controversial new project.
Project Prevention, the US charity behind the scheme, has already made similar payments to thousands of men and women in America in a fight to prevent addict's having children who may inherit their addictions.
The first British man to undergo sterilisation had been a heavy drug user since the age of 11 and said the offer of money spurred him into having the operation.
'It was something that I'd been thinking about for a long time and something I wanted to do - I just hadn't got around to it,' he said.
The 38-year-old added: 'I won't be able to support a kid. I can just manage to support myself. Just about got it together to do that.'
Barbara Harris from North Carolina, set up the charity after adopting four children whose mother had been addicted to cocaine.
She says: 'I got very angry about the damage that these drugs do to children. Isaiah could not sleep, he couldn't eat, his eyes were big, noise bothered him, light bothered him. It broke my heart.'
But, the scheme has attracted criticism for its exploitation of vulnerable people, which has led to accusations of social engineering.
A spokesman for Addaction, the drug and alcohol treatment charity said: 'Addaction firmly believes there is no place for Project Prevention in the UK because their practices are morally reprehensible and irrelevant.'
Do you agree? Does Project Prevention have the right to bribe addicts with money in order to remove their ability to reproduce? Perhaps you think it is a necessary move to control drug addiction in the UK? Marie Claire wants to hear from you by posting your comment below.
Celebrity news, beauty, fashion advice, and fascinating features, delivered straight to your inbox!