Fifty Shades of Grey and romantic fiction writing master class advice
Want to pen the next Fifty Shades? Then read romantic novelist, Victoria Fox's top tips from our Twitter event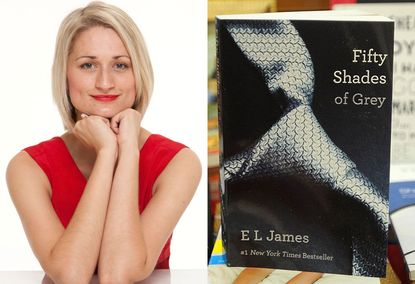 Want to pen the next Fifty Shades? Then read romantic novelist, Victoria Fox's top tips from our Twitter event
Marie Claire hosted our first romantic and erotic fiction writing master class on Twitter, hosted by Mills&Boon novelist, Victoria Fox who dished out plenty of advice from how to make your hero as lust-worthy as Christian Grey and how to erm, get inspiration for sex scenes.
HOW TO WRITE YOUR OWN FIFTY SHADES OF GREY
Missed it? Don't fret, we've cherry picked the best questions, from our Twitter followers as well as the answers plus the most insightful advice from Victoria to get you motivated for your book-writing mission.
Characters Q: How do you write the world's sexiest, most exciting hero. What tips do you have for building him up? Or her? A: I want to fancy your hero. Isolate what you find sexy (Brad? Ryan? Leo?) and give it to him #innuendoinevitable
Strong women for a true bonkbuster. Just because she falls for a hero doesn't mean she can't be a hero herself.
Q: Is it ok to stick to stereotypes such as Christina Grey or Mr Big in Sex and the City? A: Why not? They're stereotypes for a reason. Try to put your own spin on him though ;-)
Give him an Achilles Heel, a chink in his armour; something the reader sees but the characters might not.
Plot Keep chapters short and fast-paced. For a bonkbuster, switch between locations, characters, always refresh the scene.
Q: Do you think erotic fiction should be pure escapism (Vegas glam etc) or connect with readers by being down to earth? A: Dare to be different. Just make sure there's passion, seduction and a hero/heroine to root for
Every chapter must move the action on. Use reveals, cliffhangers, questions we need answered. Compel us to read on.
RYAN GOSLING HOT FAVOURITE FOR FIFTY SHADES OF GREY ROLE
Sex scenes Write sex scenes all in one go. You wouldn't stop and start in real life, so don't make your characters! #awkward
Q: When writing love scenes should you draw on own experiences or use your imagination?! A: A bit of both! Definitely let your imagination run wild ;-)
Sex euphemisms make things dated. Be confident and say what you mean.
Avoid massive chunks of description, concentrate on the action instead. We'll sketch in the blanks ourselves.
Victoria's writing rules Draft 1 won't be perfect. It doesn't matter. Get the words down and head for the finish – loads will change at the edit.
Bonkbuster checklist #1: megastar beauty, hot hero, vengeful villain, sordid secrets, scandalous sex, lush locations.
Bonkbuster checklist #2: glamour, glitter, gorgeous people; lies, betrayal, intrigue, revenge
Bonkbuster checklist #3: HAVE FUN. Make us gasp, make us laugh ... Scandalise! If you're having fun, so will we.
Write sex scenes all in one go. You wouldn't stop and start in real life, so don't make your characters! #awkward
If Victoria's advice has motivated you to get writing, you could well be tempted to enter the Racy Reads competition she's currently judging with Jackie Collins for ITV1's Lorraine. The duo are hunting for the next writer of steamy stories and it could be you! For entry information see itv.com/lorraine
Got your own writing tip? Why not share it below.
Celebrity news, beauty, fashion advice, and fascinating features, delivered straight to your inbox!