Behind The Scenes At Tommy Hilfiger's SS15 Fashion Festival
4 rockstars' daughters, 130,000 flowers… see the story of Tommy Hilfiger SS15 by numbers.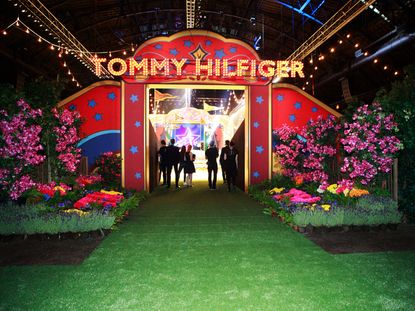 (Image credit: Rex)
4 rockstars' daughters, 130,000 flowers… see the story of Tommy Hilfiger SS15 by numbers.
Tommy Hilfiger threw the mother of all fashion festivals at NYFW last night, as the designer paid tribute to the music scene of the swinging 60s and 70s with a collection of throwback fashion hits. Transfer tattoos, suede fringing and star prints reigned, as rock royalty invaded both the front row and the style stage. Here's how the spectacular played out, in numbers:
There Were 2 Major Crooners' Daughters On The Runway Georgia May Jagger showed NYFW newbie Ella Richards (Keith's granddaughter) the ropes as she gave the show a super starry opening. Ella's aunt Alexandra Richards sat front row to support, alongside Duran Duran offspring Amber Le Bon.
130,000 Blooms Filled The Lexington Armory Yes, 130 THOUSAND. Obviously, no hippie tribute would be complete without a substantial hit of flower power, but this was on another level. Never have we known such commitment to a Gerbera daisy.
The Scene Took 4 Days To Construct Set designer Randall Peacock masterminded Tommy's circus tents, which took 4 whole days to actually pull together. There were guitar props aplenty, fake turf to Kumbaya on... even a mainstage for the headline act.
(See more behind the scenes images and all the catwalk looks in the gallery above)
1 Rock Kid EvenPerformed For Us Because what festival is complete without actual music? Bryan Ferry's son Tara made the evening complete with a live drumming set, taking centre stage as Tommy's headline act.
http://instagram.com/p/ssUaNNOB4n/embed/
There Were 800+ Transfer Tattoos We're estimating on this one, of course. But starry clusters appeared all over the faces, legs and chests of every single model, including a bikini-clad Kendall Jenner and the aforementioned Ella Richards, pictured below.
There Were 55 Actually Quite Wearable Looks Beneath all the showmanship, Tommy's delivered a lot of really wearable clothes here. Dreamy chiffon maxi dresses, cool suede separates and star print every-thang. Ringmaster hats aside, he's captured could-be-actual-vintage goodness and given it a modern spin.
Celebrity news, beauty, fashion advice, and fascinating features, delivered straight to your inbox!