Show report: Tommy Hilfiger A/W'12
The leather invitation to Tommy Hilfiger's A/W'12 collection at New York Fashion Week promised heritage, nostalgia and a heady return to the preppy days of 70s college campuses. He didn't disappoint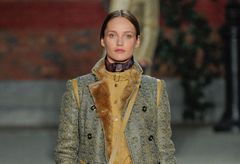 (Image credit: Imaxtree)
The leather invitation to Tommy Hilfiger's A/W'12 collection at New York Fashion Week promised heritage, nostalgia and a heady return to the preppy days of 70s college campuses. He didn't disappoint
The leather invitation to Tommy Hilfiger's A/W'12 collection at New York Fashion Week promised heritage, nostalgia and a heady return to the preppy days of 70s college campuses. He didn't disappoint.
Walking in from the sub zero February night to the crunch of gravel underfoot took many a stiletto-d fashion editor by surprise. Once we'd collectively regained our balance, we gasped, en mass, at the scene before us: Central Park had been painstakingly recreated inside.
Lit by old-fashioned lampposts and to a soundtrack of Simon and Garfunkle, Hilfiger brought us his 'Town and Country' collection - 'for the woman who moves seamlessly' between the two.
First up was Tommy's town girl – all military coats with contrasting coloured forearms, brass buttons, roll necks, tailored tweed and patent leather.
Her country cousin looked no less groomed or expensive in riding hats, navy suede, sheepskin and fur. Highlights included the equestrian-print silk shirtdresses in blue and green and lacquered plum-coloured macs.
Simon and Garfunkle was replaced by a track with the lyrics 'Money is the reason we all exist' followed by the Verve's Bittersweet Symphony – an apt end to Hilfiger's Wall Street-meets-Pony Club collection.
Celebrity news, beauty, fashion advice, and fascinating features, delivered straight to your inbox!