Show report: Aquascutum A/W'12
Nothing cheers up a drizzly afternoon like a trip to The Savoy - and seeing Joanna Sykes in action with her third collection for Aquascutum at London Fashion Week was always going to be a sartorial treat. So what does Ms Sykes have in store for A/W'12? Find out, here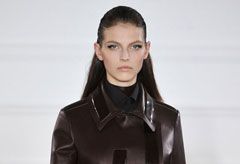 (Image credit: Imaxtree)
Nothing cheers up a drizzly afternoon like a trip to The Savoy - and seeing Joanna Sykes in action with her third collection for Aquascutum at London Fashion Week was always going to be a sartorial treat. So what does Ms Sykes have in store for A/W'12? Find out, here
Nothing cheers up a drizzly afternoon like a trip to The Savoy and seeing Joanna Sykes in action with her fourth collection for Aquascutum at London Fashion Week was always going to be a sartorial treat.
The ballroom of London's Savoy Hotel played host to the heritage brand's Autumn/Winter collection - and as the rain started to fall on day two of LFW, there was a (fashionable) scrum to get in.
As chairman of Aquascutum and head of the British Fashion Council, Harold Tillman always draws a good crowd and this year was no exception with James Corden, Poppy Delevigne, Dionne Bromfield and One Direction's Harry Styles (yes, really…) in attendance front row.
Models appeared with wet-look hair (appropriate for the weather outside), elbow-length gloves, exposed upper arms and teal leather boots in a look that hinted at 60s nostalgia but always with a modern edge.
Dresses had draped panels to expose the side of the ribcage; tunics had cutouts to show off the curve of a hip; and androgynous looking shifts had a horizontal slash to reveal the small of the back - making what might have been a rather sexless collection almost provocative.
Cropped trousers as seen at Marc Jacobs were in attendance again, as were the oversized jackets seen in the morning at Daks (trend alert).
Sykes revamped the brand's trademark tailored coat with patent leather panels and bold epaulettes for A/W'12, showing it off in dusky powder blue, greys, creams, beige - as well as a distinctive oxblood colour that's bound to inspire imitations.
Celebrity news, beauty, fashion advice, and fascinating features, delivered straight to your inbox!