Brides hunt for wedding dresses at Oxfam
Brides-to-be head to Oxfam to beat credit crunch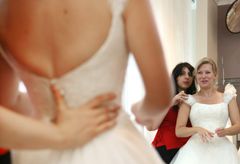 Brides-to-be head to Oxfam to beat credit crunch
Brides-to-be are heading to Oxfam as they hunt for the perfect credit-crunch wedding dress.
SEE OUR 10 BEST HIGH STREET WEDDING DRESSES
Sales of wedding gowns at the charity's stores have soared in the last six months, as many brides think of new ways to cut back on costs.
At Oxfam, gowns that usually sell for £2,000 can be nabbed for as little as £150.
Oxfam bridal manager Christine Barter said that sales in her shop in Southampton were up 27% since February last year.
'We are selling more dresses now because of the credit crunch,' she said. 'We get people who can afford to spend big on a dress, but are still buying from us and we get those who are buying from us because they can't afford anything else.'
Oxfam has 11 specialist bridal shops in the UK and they sell gowns that have been donated from fashion shows, designers, bridal shops and former brides.
If a bargain wedding dress sounds appealing to you, you'd better head down to Oxfam quickly as they are struggling to keep up with the demand.
An Oxfam spokesman said: 'We haven't seen a decline in people donating their dresses but demand is outstripping supply.'
However, if you're still planning to splash out on your dream gown, check out our 10 best designer wedding dresses here.
Celebrity news, beauty, fashion advice, and fascinating features, delivered straight to your inbox!