Eight out of ten married women do more housework than their husbands
New research shows that it's true, married women shoulder the most domestic drudgery and after children it only gets worse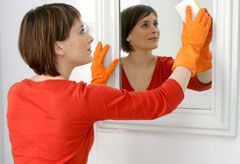 (Image credit: Rex Features)
New research shows that it's true, married women shoulder the most domestic drudgery and after children it only gets worse
If you thought you were the only one who ever cleaned the toilet, it turns out that - if you are a married woman - you are probably right. An astonishing 77% of married women do more housework than their husbands, according to new research.
Just one in ten married men does the same amount of cleaning and other domestic drudgery as his wife, according to the data from the Institute for Public Policy Research.
But a lucky 13% have husbands who actually pull their finger out more than them.
Before children, there is much more equality - almost a third of women born in 1970, who don't have children, agreed that their partner shared laundry and ironing equally.
But it's all downhill after kids - and even though well-educated men now do more childcare, compared with less well-educated men, this increased contribution does not apply to other domestic chores.
Nick Pearce, IPPR director, said: 'The revolution in gender roles is unfinished business. Women still shoulder the overwhelming burden of household tasks, particularly after they have had children.'
When it comes to equality, he said, money means power, explaining: 'When [women] earn more, their bargaining power with their partners increases, so closing the gender pay gap would help.'
The best way to achieve this is by universal free pre-school childcare, according to the research.
Men need to start taking more responsibility in the domestic arena, said Pearce.
'On most key issues, the route to modern feminist goals must pass through fathers. Men should work more flexibly, take greater responsibility for caring for their children and their homes, and have the right to reserved paternal leave,' he said.
Celebrity news, beauty, fashion advice, and fascinating features, delivered straight to your inbox!