Watch Victoria Beckham's First Speech As A UN Ambassador PLUS Our Extra Interview With The Designer
Victoria Beckham has made her first speech as a United Nations Goodwill Ambassador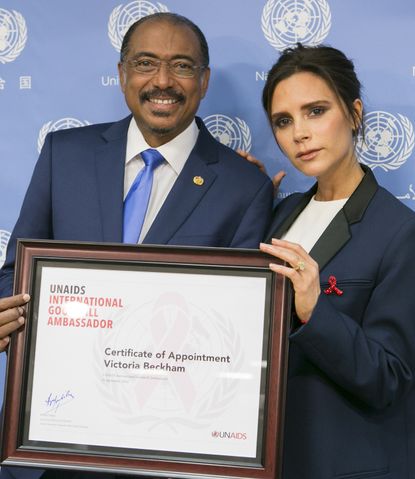 (Image credit: United Nations UNAIDS)
Victoria Beckham has made her first speech as a United Nations Goodwill Ambassador
Yesterday we brought you the news that Victoria Beckham had been appointed United Nations Goodwill Ambassador for UNAIDS. Today we have videos of her first ever speech at the organisation's General Assembly in New York, plus a special video interview with the newly-crowned womanitarian.
So why would the UN want to hire Posh Spice? 'I dream of a generation free from HIV and I know that Victoria's support will help us to achieve this shared goal," said Michel Sidibé, Executive Director of UNAIDS. "Her creativity, innovation and outreach will amplify our efforts and bring us one important step closer towards ending the AIDS epidemic.'
'In her new role as an Ambassador for UNAIDS Mrs Beckham will work towards ensuring that all children are born free from HIV and that children and women who are living with and affected by HIV have access to medicines and care,' a spokesman for the UN said.
'It's taken me to get to 40 to realise I have a responsibility as a woman and as a mother,' Victoria, who has regularly worked with Aids charities including mothers2mothers, throughout her career, explained of her new role.
'For some reason people will listen to me. This is the beginning of an incredible journey for me. I have people mentoring me. I am going back to South Africa in a few weeks and then further afield next year.'
'I would do anything for my children and I think every woman has the right to health and every woman has the right to give their children a healthy future. Elton [John] is a very dear friend of mine and David's and we've been patrons of the Elton John Aids Foundation for 20 years, so I have been working a lot with lots of Aids charities.' Watch Victoria's full speech at the United Nations conference, below.
Watch our extra video interview with the designer as she explains why she accepted the new role with the UN.
Used in articles
'I will do whatever I can to raise awareness,' Victoria added. 'I feel very passionate about this. I recently visited South Africa and was so touched by the women I met and felt inspired. I came home and I knew I had to do something. Babies should not be born with HIV and we can stop that. We are close to stopping that, we cannot give up, we have to keep going.'
There's no question that Victoria is taking her new appointment seriously - she even missed the opening of her first ever store in London to be at the conference, instead sending husband David to cut the ribbons. And she's not the first to use her status to bring attention to the United Nations efforts. Can we expect joint campaigns with Angelina Jolie and Emma Watson in the not too distant future?
Celebrity news, beauty, fashion advice, and fascinating features, delivered straight to your inbox!